Add to Watchlist
On Watchlist
Please register your interest on this listing, on the '
Documents Tab
' tab.
Property Ref: 3175
Hanmer Springs Scenic Views Motel Business for Sale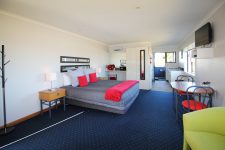 Property Type: Motels
Sale Type: Leasehold Interest (Business)
Region: Canterbury
Physical Address: 2 Amuri Ave, Hanmer Springs 7334
Price: $599,000 + GST if any
Broker: Brad Watts
Mobile: +64 21 278 0919
Email: brad@tourismproperties.com

First impressions are everything The timeless stone schist creates a true alpine feel and style to the motel's street appeal. This is the first motel on the left-hand side of the road as you drive into Hanmer Springs Alpine Village and Tourist Destination. Only 2-minute drive to Hanmer Springs famous Thermal Pools and only 1.4 hours drive from Christchurch International Airport, this is a popular destination for domestic and international visitors.
What's on Offer
The room configurations include 16 units – from studios to two bedroom family apartments that are all single level and easily accessible. There are 4 x two bedroom units, 2 x two bedroom units with an extra bed in the extended lounge area capable of sleeping 6 people and 10 x studio units. One studio has a spa bath and the executive spa pool suite has a generous size spa pool which is on an exclusive balcony overlooking the magnificent mountain views.
Convenient guest parking onsite
Easy care landscaped grounds
The lease term has 25 years remaining and is due to expire on the 19th Dec 2043.
Rent review every 2 years, the next rent review is due on the 19th Dec 2019.
The owners' accommodation is comfortable and modern, being single level, and with three bedrooms and a bathroom (with spa bath). It is not only private and spacious but also has a good overview of the complex, being adjacent (but not attached) to the office.
Brokers Comments We are instructed to sell the leasehold business interest. The business offers a return on investment of 23.04% over 4.3 years before EBITDA. To learn more about this business please register with us online to access the confidential documents within this listing by clicking on the documents tab above or contacting Brad Watts your motel specialist on mob: 0212780919 or email: brad@tourismproperties.com
About Hanmer Springs 
The Ultimate Alpine Escape…Hanmer Springs Surrounded by mountains and forests with crisp alpine air and award-winning natural thermal pools,  the village of Hanmer Springs is a simply magical place. With vibrant boutique shopping, an exciting array of adventure activities (from fishing and hunting to jet boating and bungy jumping!), world-class cafes and restaurants and family friendly farm parks and golf among what's on offer, there is literally something to entertain everyone here.
Confidential Documents
Full Listing Information for this Tourism Business will be disclosed to registered, approved Potential Purchasers.
Become a Registered User:
To gain access and download full confidential individual files on businesses for sale on this website, you must first be a registered user, and have ticked the box that you agree to the strict terms and conditions of the confidentiality agreement, provided by TourismProperties.com.
This is a simple two-minute process, which you can complete by selecting 'Register' at the top right hand of your device now.
If you are already registered with us:
You can request full access to this listing's confidential files by:
Logging in with your existing user name (your email used to register) and your password, then by
Locating the listing you are interested in viewing Listing Files, then
Navigating to the 'Documents' tab, of the listing you are interested in, and
Selecting 'Request Access' to the confidential information here within.
We will quickly respond confirming your approval.
When you are emailed your 'access approval' notification, you need to be logged in to our website, in order to view and/or download the confidential files, which are located in your 'Document Library'.
If you are already logged in now:
Simply register your interest here, by navigating to the 'Documents' tab, and selecting 'Request Access' to the confidential information here within, and Adrian will come back to you by email with your access notification.
---
Scenic View - Lease
Scenic View - Sales Info
Scenic View - Chattels
Scenic View - P&L Report 2016 - 2019
Scenic View - Occ Report 2018
Tripadvisor Feedback – What the geust have to say
Really helpful and friendly Staff; Stopped off, lovely motels offer towels for springs and lovely outdoor garden setting for us smokers, recommend this spot, lovely morning views. Good and spacious very helpful staff, would recommend for familes.
Very good place to stay;  Compact & Clean place to stay. About 5-10 minutes walk to the spa. Dining also of similar distance. Warm rooms ( to be considered in winter !! ). Facility of parking car very close to the room. Beautiful view of the mountains from outiside of the room. Quiet location.
Everything you need and more; We turned up late at night without a booking and were thrilled to come across a vacancy in this beautifully clean and warm motel. Thanks Jane and Richard for your great local advice and lovely hospitality.
WELCOMING; These guys are so friendly and have it just right. The beds are great and the rooms are large with kitchenette and ensuite. Within walking distance of the pools and restaurants as well! Would stay again .
Property Details
Property Type
Motels

Sale Type
Leasehold Interest (Business)

Region
Canterbury
Physical Address
2 Amuri Ave, Hanmer Springs 7334
Price
$599,000 + GST if any
Contact Agents
Brad Watts
Tourism & Hospitality Business Broker
Canterbury, Marlborough, Tasman & Upper West Coast
International: +64 21 278 0919
NZ Mobile: 021 278 0919
Email: brad@tourismproperties.com