Add to Watchlist
On Watchlist
Please register your interest on this listing, on the '
Documents Tab
' tab.
Property Ref: 3133
Auckland Backpackers business for sale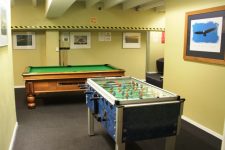 Property Type: Backpackers
Sale Type: Leasehold Interest (Business)
Region: Auckland
Physical Address: 234 Hobson Street, Auckland
Price: Neg
Broker: Tom Crawford
Mobile: +64 21 278 9200
Centrally located in Auckland Silver Fern Backpackers is a purpose built modern hostel offering bunk, family and double rooms with fresh bedding & linen provided. All Single/Double and En-suite Bedrooms have Digital TV'S with programs in English, Korean & Mandarin. All facilities and chattels are of high standard. Major benefit is 13 onsite car parks.
Accommodation configuration:
Single Rooms
Single En-suite Rooms
Double/Twin Rooms
Double/Twin En-suite Rooms
Family/Group Private Room
4 Bed Dorm Room
6 Bed Dorm Room
8 Bed Dorm Room
12 Bed Dorm Room
The owner lives off site and staff are roistered to cover reception when owner not on duty.
The lease expires October 2034.
Tourism New Zealand reports "the backpacker segment, aged between 18- 24 years, represents approximately 11 per cent of New Zealand's holiday arrivals and visitor spend – making it a valuable visitor segment for New Zealand.Backpackers account for over 159,000 visitors to New Zealand a year, driving 22 per cent of holiday stay days with an average length of stay over 31 days and an average spend per visitor of over $3,700"
Interested in being part of this fast-growing segment of the tourism industry? Contact the tourism brokers to inspect this quality business.
Any interest in this business should be registered with the business brokers. Contents of this web site do not form part of a contract. While care has been taken in the preparation no responsibility is accepted for the accuracy of the whole or any part and interested persons are advised to make their own inquiries and satisfy themselves in all respects
Confidential Documents
Full Listing Information for this Tourism Business will be disclosed to registered, approved Potential Purchasers.
Become a Registered User:
To gain access and download full confidential individual files on businesses for sale on this website, you must first be a registered user, and have ticked the box that you agree to the strict terms and conditions of the confidentiality agreement, provided by TourismProperties.com.
This is a simple two-minute process, which you can complete by selecting 'Register' at the top right hand of your device now.
If you are already registered with us:
You can request full access to this listing's confidential files by:
Logging in with your existing user name (your email used to register) and your password, then by
Locating the listing you are interested in viewing Listing Files, then
Navigating to the 'Documents' tab, of the listing you are interested in, and
Selecting 'Request Access' to the confidential information here within.
We will quickly respond confirming your approval.
When you are emailed your 'access approval' notification, you need to be logged in to our website, in order to view and/or download the confidential files, which are located in your 'Document Library'.
If you are already logged in now:
Simply register your interest here, by navigating to the 'Documents' tab, and selecting 'Request Access' to the confidential information here within, and Adrian will come back to you by email with your access notification.
---
Deed of Lease
Financials March 18
Sales including GST
Chattels
signed lease extension
Property Details
Property Type
Backpackers

Sale Type
Leasehold Interest (Business)

Region
Auckland
Physical Address
234 Hobson Street, Auckland
Price
Neg
Contact Agents
Tom Crawford
Tourism & Hospitality Business Broker
Northland, Auckland & Coromandel
International: +64 21 278 9200
NZ Mobile: 021 278 9200
Email: tom.crawford@tourismproperties.com

Carolynn Crawford
Tourism & Hospitality Business Broker
Northland, Auckland & Coromandel
International: +64 21 247 8716
NZ Mobile: 021 247 8716
NZ Mobile: 021 247 8716
Email: carolynn.crawford@tourismproperties.com