Add to Watchlist
On Watchlist
Please register your interest on this listing, on the '
Documents Tab
' tab.
Property Ref: 7804
The Crossing Backpackers, Tongariro National Park: Business for sale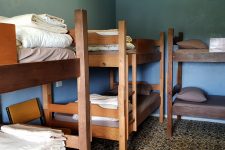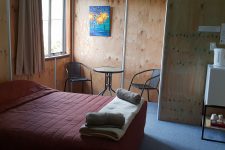 Property Type: Backpackers
Sale Type: Business only
Region: Central Plateau
Physical Address: 9 Erua Road East, Erua, Tongariro National Park
Price: Leasehold Interest $320,000 or near offer +SAV (+GST if any)
Broker: Malcolm Teesdale
Mobile: +64 27 530 8738
The Crossing Backpackers can be found at Erua Village, right next to the world famous Tongariro National Park.
It's the perfect base for skiing and snowboarding in winter and for all summer activities, including the highly popular Tongariro Alpine Crossing, mountain-biking, cycling, kayaking, fishing, hiking…
Location:
Erua is just 6kms south of National Park Village on SH4, 15mins from Whakapapa, 25mins from Turoa, and 30mins from the Tongariro Alpine Crossing.
Accommodations:
With a Qualmark 3*plus and Enviro Bronze rating, the Crossing offers quality budget accommodation for up to 113 guests.
The business occupies two lodges. The Main Lodge comprises 20 rooms with reception, office, kitchen, dining, lounge, movie room, bathrooms, guest laundry, spa pool and drying room. There's uniquely stylish fitout and excellent common areas.  Erua Lodge has 8 operational rooms and bathroom. Here there is potential to refurbish the kitchen, lounge, more bathrooms to add another 2 rooms.
Sleeping accommodations are very flexible over the 28 rooms:
3x  bunkrooms sleep 8
3x bunkrooms sleep 6
9x bunkrooms sleep 4 (1 sleeps 5)
1x bunkrooms sleep 3
2x bunkrooms sleep 2
6x Double bed rooms
2x Family units self-contained sleep 4
1x Family units self-contained sleep 5
1x Queen ensuite room
There are also pleasant areas in the well-presented grounds for summer tenting and campervans (not powered).
The Business:
The Crossing Backpackers specialises in school camps and common-interest groups. It has a loyal following with much repeat business and significant forward bookings.
Occupancy and turnover show continuing growth and the business turns a nice profit. Full financial disclosure is available to qualified buyers.
All systems are fully documented including the appropriate Health & Safety and Food Control plans.
The leases (one for each lodge) have 22 years to run and the rent is reasonable.
Owner's Accommodation:
The business owners enjoy a separate and private house and garage. The house is currently configured as 1 bedroom but has unused space that can easily be remodeled to add another one or two bedrooms if required.
The Crossing Backpackers presents an attractive proposition to an active couple or extended family who enjoy hospitality. Set in a spectacular part of the country with amazing access to activities, it offers a lifestyle and business opportunity that must be seen.
Confidential Documents
Full Listing Information for this Tourism Business will be disclosed to registered, approved Potential Purchasers.
Become a Registered User:
To gain access and download full confidential individual files on businesses for sale on this website, you must first be a registered user, and have ticked the box that you agree to the strict terms and conditions of the confidentiality agreement, provided by TourismProperties.com.
This is a simple two-minute process, which you can complete by selecting 'Register' at the top right hand of your device now.
If you are already registered with us:
You can request full access to this listing's confidential files by:
Logging in with your existing user name (your email used to register) and your password, then by
Locating the listing you are interested in viewing Listing Files, then
Navigating to the 'Documents' tab, of the listing you are interested in, and
Selecting 'Request Access' to the confidential information here within.
We will quickly respond confirming your approval.
When you are emailed your 'access approval' notification, you need to be logged in to our website, in order to view and/or download the confidential files, which are located in your 'Document Library'.
If you are already logged in now:
Simply register your interest here, by navigating to the 'Documents' tab, and selecting 'Request Access' to the confidential information here within, and Adrian will come back to you by email with your access notification.
---
Lease Main Lodge
Lease Erua Lodge
Lease Plan
Rooms and Units
Floor plans
Profit and Loss
Occupancy
Future Bookings at May 2019
Chattels Main Lodge
Chattels Erua Lodge
Building WOF
Qualmark Report
TripAdvisor 4.5 Excellent
Perfect Stay
We had a very special stay at the Crossing Backpackers! Free shuttle from the Bus Station to the lodge and a lot of kindness from the backpacker's people. Simple and cozy room with nice bedding. Big kitchen with everything we needed to cook and eat. Well equipped. The spa pool to relax after the walk was amazing and I strongly recommended! Definitely would stay there if I get back to the National Park.
Helena Gomez Apr 2019
Awesome weekend away!
I stayed here with a group of people and we all had an amazing time! The staff were very accomadating, especially since I booked late. Definitely value for money. The place had a massive kitchen where you can cook your own food, a spa pool and an amazing games room. You definitely need to check that out if you're staying here! Open up the waredrobe in there and you walk into Narnia. I thought that was an awesome touch! We got the package deal which included the shuttle to Tongariro. I would receommend this place to anyone and will definitely be staying here again!
Alana Mar 2019.
The best accomodation in the area
I'm happy with everything including the customer service, rooms, plenty of indoor showers, spa, price,,etc
Accommodation close to the National Park. Nothing to fault. My stay there was above my expectations to be honest.
Frat Y Mar 2019
Booking.com 8.5 Very Good
Property Details
Property Type
Backpackers

Sale Type
Business only

Region
Central Plateau
Physical Address
9 Erua Road East, Erua, Tongariro National Park
Price
Leasehold Interest $320,000 or near offer +SAV (+GST if any)
Contact Agents
Malcolm Teesdale
Tourism & Hospitality Business Broker
Waikato, Taupo, Central Plateau & Bay of Plenty
International: +64 27 530 8738
NZ Mobile: 027 530 8738
Email: malcolm@tourismproperties.com