Add to Watchlist
On Watchlist
Please register your interest on this listing, on the '
Documents Tab
' tab.
Property Ref: 4006
Three Bees – Whitianga Holiday Accommodation for sale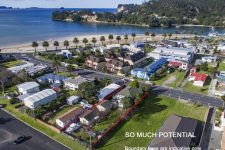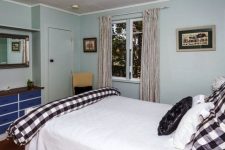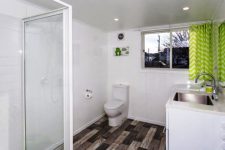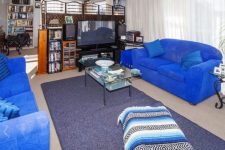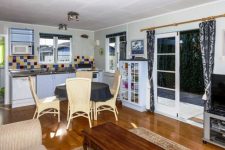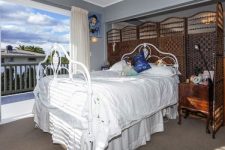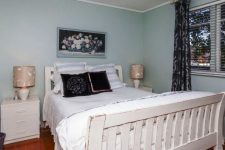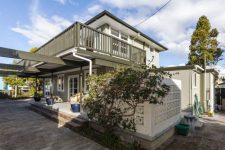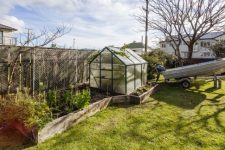 Property Type: Bed & Breakfast, Residential Real Estate
Sale Type: Freehold Going Concern, Urgent Deadline Sales
Region: Coromandel
Physical Address: 13 Albert Street Whitianga 3510
Price: $1,250,000 GST exempt
Broker: Tom Crawford
Mobile: +64 21 278 9200
Three bees' might just be the honey pot for you.
If you're semi-retired and looking for a trouble free investment in a glorious Coromandel holiday hot spot just steps from the beachfront- this might be for you.
You will buy a modern holiday rental property consisting of 5 bedrooms and 2 bathrooms.
This comprises a ground floor 3 bedroom apartment with French doors opening to a large covered deck.
On the upper floor is a 1 bedroom apartment with full kitchen opening on to a large deck with superb water views.Separate entrances
There is also a 1 bedroom 'gardeners cottage' and a single garage/workshop combo.
There is a large well established garden which has been beautifully maintained.
The location is but seconds to renowned Buffalo Beach and the many shops and cafes that make Whitianga such a perfect tourist destination.
As you would expect summer months are busy but you will be able to relax during the slower winter months.
There are several options with this property- you may wish to reside there perhaps in the upper apartment and rent the lower part or run it as is currently the case, as all holiday accommodation or indeed make the entire property your private residence.
Whatever you choose don't miss out – this is really the 'bees knees'
Welcome to Whitianga, the heart of Mercury Bay!
Whitianga is a place where you can do a little or a lot – the pace of life can be as busy or as calm as you choose.
An increasing popular get-a-way spot, Whitianga & the Mercury Bay region is located on the Eastern side of The Coromandel Peninsula, 208kms from Auckland.  The beautiful deep-water harbour has made Whitianga the home of the Mercury Bay Boating club and the main departure point for big game fishing enthusiasts and many other water activities. Also easy access to key visitor tourist spots including Hahei, Cathedral Cove, and Hot Water Beach?
Now a thriving coastal town with around 4,000 permanent residents Whitianga is evolving into a delightful place to visit. It fast becomes one New Zealand's most popular North Island holiday destinations for both local and international visitors.
See more at: www.whitianga.co.nz
Confidential Documents
Full Listing Information for this Tourism Business will be disclosed to registered, approved Potential Purchasers.
Become a Registered User:
To gain access and download full confidential individual files on businesses for sale on this website, you must first be a registered user, and have ticked the box that you agree to the strict terms and conditions of the confidentiality agreement, provided by TourismProperties.com.
This is a simple two-minute process, which you can complete by selecting 'Register' at the top right hand of your device now.
If you are already registered with us:
You can request full access to this listing's confidential files by:
Logging in with your existing user name (your email used to register) and your password, then by
Locating the listing you are interested in viewing Listing Files, then
Navigating to the 'Documents' tab, of the listing you are interested in, and
Selecting 'Request Access' to the confidential information here within.
We will quickly respond confirming your approval.
When you are emailed your 'access approval' notification, you need to be logged in to our website, in order to view and/or download the confidential files, which are located in your 'Document Library'.
If you are already logged in now:
Simply register your interest here, by navigating to the 'Documents' tab, and selecting 'Request Access' to the confidential information here within, and Adrian will come back to you by email with your access notification.
---
Property Details
Property Type
Bed & Breakfast
Residential Real Estate

Sale Type
Freehold Going Concern
Urgent Deadline Sales

Region
Coromandel
Physical Address
13 Albert Street Whitianga 3510
Price
$1,250,000 GST exempt
Contact Agents
Tom Crawford
Tourism & Hospitality Business Broker
Northland, Auckland & Coromandel
International: +64 21 278 9200
NZ Mobile: 021 278 9200
Email: tom.crawford@tourismproperties.com

Carolynn Crawford
Tourism & Hospitality Business Broker
Northland, Auckland & Coromandel
International: +64 21 247 8716
NZ Mobile: 021 247 8716
NZ Mobile: 021 247 8716
Email: carolynn.crawford@tourismproperties.com