Add to Watchlist
On Watchlist
Please register your interest on this listing, on the '
Documents Tab
' tab.
Property Ref: 2309
Motivated Vendor, Price Reduced: Tongariro Suites@The Rocks Boutique B&B, Central Plateau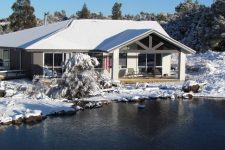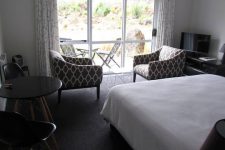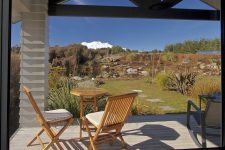 Property Type: Lodges, Bed & Breakfast, Luxury Homes, Motels, Residential Real Estate
Sale Type: Freehold Going Concern
Region: Central Plateau
Physical Address: 27 Hutiwai Rd, Horopito
Price: FHGC PRICE REDUCED TO $1,995,000 (+GST if any)
Broker: Malcolm Teesdale
Mobile: +64 27 530 8738
Motivated Vendor
Absolute class
Super location
Sustainable lifestyle plus
Proven B&B business
This premium property is located on the edge of Tongariro National Park. Discreetly located just minutes from Ohakune Village, you are handy to both Turoa and Whakapapa ski resorts. The property is also well-placed for the famous Tongariro Crossing and for the endless recreational opportunities of the area: hiking, kayaking, mountain-biking, star-gazing, jet boating, quad-biking and more. Tongariro National Park is an all-season playground.
Stunning home with 6 luxurious suites:
These supersized suites must be seen to appreciate how very cool they are. All have generous showers (room for two!) and 4 have freestanding baths. One even has a second accessible bathroom.  Every suite enjoys superb views of Mt Ruapehu across the gardens featuring native plantings and a pond. Each suite has its own private deck. There is also a large sheltered deck with hot tub and barbecue – and the ever-present mountain view. At the heart of the home is a massive open-plan kitchen/dining/lounge, opening onto another large deck, plus a second snug lounge – both with wood fires.
Environmentally Sustainable:
Built just 4 years ago, on over 1 hectare of land, the 450 m2 property represents the latest thinking in sustainability. The 5KW solar system provides a large proportion of electric power on site. Lights are either energy efficient or LED. Heating, water heating and the hot tub are all electric. The property is double glazed and fully insulated, including the concrete foundation. Water is by rainwater. All waste water stays on site: it is processed, filtered and clean water is recycled back into the ground.
The Business Opportunity:
The property currently operates as Tongariro Suites@The Rocks – a very successful luxury B&B with 4 guest suites. The design of the property makes this possible with zero intrusion into the owners' private, 2-suite home. The business operates all year round at 80% occupancy. It rates 5 stars on TripAdvisor, Exceptional 9.7 on Booking.com with outstanding reviews. The operating surplus is well into 6 figures.
With Ruapehu Alpine Lifts investing $100m in their skifields over the next few years, and with the ski season opening earlier than ever before, demand for accommodation in the areas is booming.
The sale will include all the quality chattels required for the operation of the B&B and significant forward bookings.
Full financial disclosure and registered valuation are available to qualified enquirers: call now to arrange your personal inspection.
Confidential Documents
Full Listing Information for this Tourism Business will be disclosed to registered, approved Potential Purchasers.
Become a Registered User:
To gain access and download full confidential individual files on businesses for sale on this website, you must first be a registered user, and have ticked the box that you agree to the strict terms and conditions of the confidentiality agreement, provided by TourismProperties.com.
This is a simple two-minute process, which you can complete by selecting 'Register' at the top right hand of your device now.
If you are already registered with us:
You can request full access to this listing's confidential files by:
Logging in with your existing user name (your email used to register) and your password, then by
Locating the listing you are interested in viewing Listing Files, then
Navigating to the 'Documents' tab, of the listing you are interested in, and
Selecting 'Request Access' to the confidential information here within.
We will quickly respond confirming your approval.
When you are emailed your 'access approval' notification, you need to be logged in to our website, in order to view and/or download the confidential files, which are located in your 'Document Library'.
If you are already logged in now:
Simply register your interest here, by navigating to the 'Documents' tab, and selecting 'Request Access' to the confidential information here within, and Adrian will come back to you by email with your access notification.
---
Valuation
Property Summary
P&L FY2015-FY2017
P&L FY2017, 2018, 2019
P&L FY2020
Little Hotelier Statistics as at 7 July 2020
For outstanding TripAdvisor Reviews click HERE
Property Details
Property Type
Lodges
Bed & Breakfast
Luxury Homes
Motels
Residential Real Estate

Sale Type
Freehold Going Concern

Region
Central Plateau
Physical Address
27 Hutiwai Rd, Horopito
Price
FHGC PRICE REDUCED TO $1,995,000 (+GST if any)
Contact Agents
Malcolm Teesdale
Tourism, Hospitality & Leisure Business Broker
Waikato, Taupo, Central Plateau & Bay of Plenty
International: +64 27 530 8738
NZ Mobile: 027 530 8738
Email: malcolm@tourismproperties.com