Add to Watchlist
On Watchlist
Please register your interest on this listing, on the '
Documents Tab
' tab.
Property Ref: 7688
Cafe 469 and Motels – Fabulous freehold business with room for growth!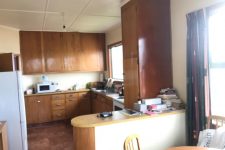 Property Type: Commercial Real Estate, Motels, Cafes, Other Businesses for sale
Sale Type: Freehold Going Concern
Region: Otago
Physical Address: 469 Thames Highway, Oamaru North, OAMARU 9400
Price: Land, buildings & business $859,000 + GST (if any)
Broker: Peter Gale
Mobile: +64 21 608 107
Email: peter@tourismproperties.com

Café 469 & Motels (Oamaru) has to be one of the best freehold going concerns under $1M that we have marketed for some time! Here are some great reasons why you should take a closer look:
Freehold land and buildings –you can be your own boss and landlord with all the added benefits of living on the premises. Upstairs in the main building (built circa 1952) is the owner's accommodation featuring 3-bedrooms and large living area with pleasant outlook across the highway to the opposite hills. It is in original condition with some amazing art-deco features. The windows have been tastefully double-glazed to ensure winter comfort and general quietness. The spacious café has a warm, inviting atmosphere with ample sit-down room for the busiest times. Complete with commercial kitchen and large chiller it has everything you need. The motel units are very well presented and open to a picturesque landscaped garden setting. There is still plenty of scope form new owners to add further valueThe 3 x self-contained Motel units to the rear were built in 1953 along the style of art deco with ornate plaster ceilings. An added feature is the lovely private yard and flower garden that guests freely enjoy. All the units have been tastefully refurbished including double-glazing, new kitchens and bathrooms but still retain the 'art deco' style. 2 units have 1 queen-size and 1 single bed, the third has 1 queen size bed & 2 single beds. All units have LED 32″ flat screen T.V.s with their own sky decoder plus sport. Some recent guest comments include "A Home Away from Home" "Best Value for Money" "Hidden Gems"
What a superb location! As you approach Oamaru from the North it is hard to miss Café 469 & Motels. On the busy main highway into Oamaru it is a mere 2 minutes' drive from the centre of town and close to major sporting grounds and high schools. The business draws on a strong captive market together with passing traffic
Diversified income – The steady income comes from the substantial 'coffee bar/takeaways' together with 3 x comfortable motel units
Ideal for a couple – The current owners manage this comfortably as a 2-person operation, with the café currently only being opened for breakfast and lunch from 8am – 3pm, 5 days per week
Includes accommodation – Above the café/restaurant is a comfortable 3-bedroom owner's accommodation with spacious living area providing all the added benefits of living on the premises. Above the café/restaurant is a comfortable 3-bedroom owner's accommodation with a spacious living area, w.   No worries about peak-hour traffic here!
Enjoy the lifestyle – the business has allowed the current owners to enjoy a great lifestyle for the last 13 years. However they now wish to 'retire' and it is time for someone else to reap the rewards
Make it your own! The café and restaurant is under-utilised and there is ample potential for motivated owners to do something really special. All the elements are here!
This substantial freehold business is realistically priced for a quick sale. A business of this quality less than $1M does not come along very often! Interested parties should contact me now for further information!
Oamaru, the largest town of the Waitaki District, has a rich history and proud heritage, enriched by the passionate and perhaps quirky locals. Explore this heritage in the Victorian Precint, where you will find, shops, galleries and traditional crafts within some of the Southern Hemispheres most complete Victorian streetscapes and19th century architecture.
This heritage and history is proudly celebrated each November during Oamaru's Victorian Heritage Celebrations. A new heritage experience is also nestled right in the heart of Victorian Oamaru, Whitestone City. This is a fun-filled and interactive experience that the whole family will love.
Also at home in the Precinct, the wonderful world of Steampunk. Check out New Zealand's premiere Steampunk attraction at Steampunk HQ or take the kids to the steampunk-inspired playground at Friendly Bay (Oamaru Harbour). If you're a big fan, plan your trip to coincide with the Steampunk New Zealand Festival each Queen's Birthday weekend.
All the exploring will soon have you hungry. Treat your tired taste-buds to a variety of mouth-water food and drink delights in Oamaru. With Scotts Brewery, The NZ Whisky Collection cellar door, award-winning restaurants such as Riverstone Kitchen and locally crafted artisan cheeses and factory tours and tastings at Whitestone Cheese Co., foodies will be in their element.
Having tasted some of the unique Waitaki flavours, head to see the world's smallest penguins in their natural environment at the Oamaru Blue Penguin Colony. You can also witness the world's rarest penguin – the yellow-eyed penguin – coming ashore at Bushy Beach. Watch from the purpose-built viewing hide so the penguins are not disturbed.
There also are great options for walking and biking in Oamaru. The Oamaru Public Gardens are a great option for a leisurely stroll, picnic and play on the playground. Or explore more of Oamaru and enjoy sweeping sea views on the Skyline or South Hill Walks. Cape Wanbrow is another popular spot for walkers (and is part of the South Hill track) with parking available at the reserve/lookout entrance.
The Cape is also popular with mountain bikers and has a number of short, fun runs of varying levels of difficulty. Mountain bikers can also find some great tracks at the Oamaru Reservoir.
Confidential Documents
Full Listing Information for this Tourism Business will be disclosed to registered, approved Potential Purchasers.
Become a Registered User:
To gain access and download full confidential individual files on businesses for sale on this website, you must first be a registered user, and have ticked the box that you agree to the strict terms and conditions of the confidentiality agreement, provided by TourismProperties.com.
This is a simple two-minute process, which you can complete by selecting 'Register' at the top right hand of your device now.
If you are already registered with us:
You can request full access to this listing's confidential files by:
Logging in with your existing user name (your email used to register) and your password, then by
Locating the listing you are interested in viewing Listing Files, then
Navigating to the 'Documents' tab, of the listing you are interested in, and
Selecting 'Request Access' to the confidential information here within.
We will quickly respond confirming your approval.
When you are emailed your 'access approval' notification, you need to be logged in to our website, in order to view and/or download the confidential files, which are located in your 'Document Library'.
If you are already logged in now:
Simply register your interest here, by navigating to the 'Documents' tab, and selecting 'Request Access' to the confidential information here within, and Adrian will come back to you by email with your access notification.
---
Financials (3 years to 31 March 2018)
Title
Rates
QV
Motels Fixtures & Fittings
Kitchen Fixtures & Fittings
Laundry, store-room etc chattels
Cafe chattels
Occupancy info
Property Details
Property Type
Commercial Real Estate
Motels
Cafes
Other Businesses for sale

Sale Type
Freehold Going Concern

Region
Otago
Physical Address
469 Thames Highway, Oamaru North, OAMARU 9400
Price
Land, buildings & business $859,000 + GST (if any)
Contact Agents
Peter Gale
Tourism & Hospitality Business Broker
South Canterbury, Waitaki, Otago & Northern Southland
International: +64 21 608 107
NZ Mobile: 021 608 107
Email: peter@tourismproperties.com