Add to Watchlist
On Watchlist
Please register your interest on this listing, on the '
Documents Tab
' tab.
Property Ref: 4305
Oamaru's Landmark Building Now For Sale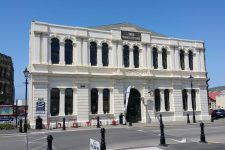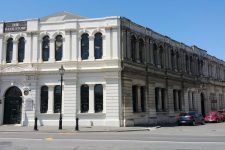 Property Type: Commercial Real Estate, Development Opportunities, Hotels
Sale Type: Investment (on Leasehold Land)
Region: Otago
Physical Address: 1 Tyne Street, South Hill, OAMARU 9400
Price: $1.4M + GST (if any)
Broker: Peter Gale
Mobile: +64 21 608 107
Email: peter@tourismproperties.com

Occupying a prominent position in the vibrant tourism precinct adjacent to the sheltered Oamaru Harbour is this irreplaceable showcase building known as 'The Woolstore Complex'.
Key features include:
One of the only significant quality buildings in the area that is still in private ownership
Stunningly 'restored' and maintained; and with a high earthquake rating of 80% NBS (New Building Standard)
Occupies a strategic position bordered by the popular harbour-side train on one side and Oamaru's famous first street on another
Parts of the original Woolstore remain – such as the working belt-conveyor – providing a captivating link to the history of the building and the area
The floor plate of approx. 2,370m2 (approx. 23,700 sq. ft. or 11,850 sq. ft. per level) and multiple entrances provide ample scope for a quality fit-out, with the many possibilities including accommodation, prime retail, office or a combination of those
The Leasehold land has what are effectively 'perpetual' rights of renewal – a cost-effective security of tenure
The Woolstore Complex is now for sale by the current owners of over 20 years at a fraction of replacement cost.
PLEASE NOTE: It is the building only for sale | The existing businesses and leasehold land are excluded.
ABOUT OAMARU
Oamaru started its existence in the mid-1800s as one of a few large sheep farms in North Otago. The natural harbour was recognised and a breakwater built to facilitate trade. Buildings sprung up – banks, grain stores, post offices and a court house – built with a type of limestone called Oamaru stone because it is sourced locally and used all over the country. As a result Oamaru has a fantastic collection of older buildings largely concentrated in a precinct by the harbour.
It is the finishing point of the 'Alps 2 Ocean Trail' which is currently the longest bike trail in New Zealand and has arguably the most variety of scenery. The official start is near Aoraki Mt Cook Village, at 700m above sea level in the midst of the snow capped Southern Alps. You fly in by helicopter, ride around glacial and hydro lakes, down through the Waitaki Valley and finish at sea level at Oamaru by the Pacific Ocean.
Visitors also come to view the nightly return to shore of little blue penguins. The colony is now run by the District Council as a commercial activity and research facility, offering an opportunity to view the penguins in their natural habitat.
The town is also the gateway to the Waitaki Valley, a stunning natural area bisected by the braided Waitaki River, whose hydroelectic dams have created numerous lakes for water sports and recreation. The Waitaki Valley is home to New Zealand's newest wine appellation, where a number of vineyards are producing Pinot Noir, Pinot Gris, Riesling and other varietals that are winning international awards.
Today Oamaru is a popular and growing tourism spot with stunning Victorian architecture, wildlife and exceptional restaurants.
Confidential Documents
Full Listing Information for this Tourism Business will be disclosed to registered, approved Potential Purchasers.
Become a Registered User:
To gain access and download full confidential individual files on businesses for sale on this website, you must first be a registered user, and have ticked the box that you agree to the strict terms and conditions of the confidentiality agreement, provided by TourismProperties.com.
This is a simple two-minute process, which you can complete by selecting 'Register' at the top right hand of your device now.
If you are already registered with us:
You can request full access to this listing's confidential files by:
Logging in with your existing user name (your email used to register) and your password, then by
Locating the listing you are interested in viewing Listing Files, then
Navigating to the 'Documents' tab, of the listing you are interested in, and
Selecting 'Request Access' to the confidential information here within.
We will quickly respond confirming your approval.
When you are emailed your 'access approval' notification, you need to be logged in to our website, in order to view and/or download the confidential files, which are located in your 'Document Library'.
If you are already logged in now:
Simply register your interest here, by navigating to the 'Documents' tab, and selecting 'Request Access' to the confidential information here within, and Adrian will come back to you by email with your access notification.
---
Title
Detailed Seismic Assessment (Dec 2018)
DRAFT Plans (as a general guide)
Ground Lease docs
Ground rent & rates invoices
Waitaki District Council info/feedback
Building WOF
Zoning rules - Business zone
Zoning rules - Heritage
Lease to Cafe
Article in STUFF March 2020
Property Details
Property Type
Commercial Real Estate
Development Opportunities
Hotels

Sale Type
Investment (on Leasehold Land)

Region
Otago
Physical Address
1 Tyne Street, South Hill, OAMARU 9400
Price
$1.4M + GST (if any)
Contact Agents
Peter Gale
Tourism, Hospitality & Leisure Business Broker
South Canterbury, Waitaki, Otago & Northern Southland
International: +64 21 608 107
NZ Mobile: 021 608 107
Email: peter@tourismproperties.com