Add to Watchlist
On Watchlist
Please register your interest on this listing, on the '
Documents Tab
' tab.
Property Ref: 4305
The Woolstore Complex Oamaru – an Iconic Heritage Building for Tasteful Re-Development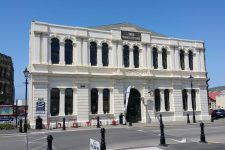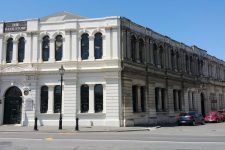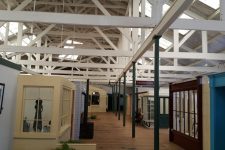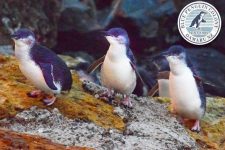 Property Type: Commercial Real Estate, Development Opportunities, Development Site
Sale Type: Investment (on Leasehold Land)
Region: Otago
Physical Address: 1 Tyne Street, South Hill, OAMARU 9400
Price: Building on leasehold land $1,600,000 + GST (if any)
Broker: Peter Gale
Mobile: +64 21 608 107
Email: peter@tourismproperties.com

Occupying a prominent position in the busy Victorian precinct adjacent to the sheltered Oamaru Harbour, this is one of the only significant quality heritage buildings in the area that is still in private ownership. It is bordered by the popular harbour-side train on one side and Oamaru's famous first street on another.
The current owners of 25yrs are now seeking to retire and have reluctantly decided to offer their pride and joy for sale. With an impressive earthquake rating (Ref: Detailed Seismic Assessment by Hadley & Robinson Consulting Civil & Structural Engineers – December 2018) of 80% NBS this is a solid, well constructed building that has stood the test of time.
However the building still remains 'home' to several families of the Oamaru's famous Blue Penguins, who nest under the floor.
Imagine if this historic building was to be developed into a boutique hotel and/or retail showcase, featuring 'glass' panels in the floor, so that visitors could enjoy discreetly viewing the penguins that also reside there! And with the many features of the original woolstore – such as the belt conveyor – still in place, there are endless opportunities for an owner with vision to create a truly special and unique experience for their guests!
Known locally as 'The Woolstore Complex' this beautiful building was built in 1881 by two prominent Oamaru Grain & Seed Merchants. Constructed of locally quarried limestone, in the elaborate Neo-Classical style, the building was designed by the busiest local architects of the time Forrester & Lemon.
In 1889 the 'National Mortgage & Agency Co' bought the building, and when 'National Mortgage' merged with 'Wright Stephensons' the firm became known as 'Wrightsons NMA Ltd'. The name changed again to Wrightsons Grain & Seeds when the building was converted to take bulk grain.
It remained as such until 1987 when W.D. Forsyth Ltd (Woolbuyers) bought the building, once again to be used for the storage of wool.
Now, after extensive and careful restoration, The Woolstore complex currently features:
A Cafe
A gift shop
A Portrait studio
A motoring museum on the ground floor
Galleries on the expansive upper floor – The vistas and views are unrivalled.
With a floor area of approx. 2,370m2 (source: QV.co.nz) and multiple entrances, there is ample scope for tasteful redevelopment. It is easy to imagine this as upmarket 'inner-city-living', or perhaps quality hotel accommodation, combined with showcase retail (all subject to local body consents and approval).
What is needed here is a very special new owner, who has the vision and means to transform this unique building into something truly captivating and rare, one that can combine the delight of both the human guests, and the very special local residents, the Little Blue Penguins.
PLEASE NOTE: It is the building only for sale | The existing businesses and leasehold land are excluded.
Confidential Documents
Full Listing Information for this Tourism Business will be disclosed to registered, approved Potential Purchasers.
Become a Registered User:
To gain access and download full confidential individual files on businesses for sale on this website, you must first be a registered user, and have ticked the box that you agree to the strict terms and conditions of the confidentiality agreement, provided by TourismProperties.com.
This is a simple two-minute process, which you can complete by selecting 'Register' at the top right hand of your device now.
If you are already registered with us:
You can request full access to this listing's confidential files by:
Logging in with your existing user name (your email used to register) and your password, then by
Locating the listing you are interested in viewing Listing Files, then
Navigating to the 'Documents' tab, of the listing you are interested in, and
Selecting 'Request Access' to the confidential information here within.
We will quickly respond confirming your approval.
When you are emailed your 'access approval' notification, you need to be logged in to our website, in order to view and/or download the confidential files, which are located in your 'Document Library'.
If you are already logged in now:
Simply register your interest here, by navigating to the 'Documents' tab, and selecting 'Request Access' to the confidential information here within, and Adrian will come back to you by email with your access notification.
---
Title
Detailed Seismic Assessment (Dec 2018)
DRAFT Plans (as a general guide)
Ground Lease docs
Ground rent & rates invoices
Waitaki District Council info/feedback
Building WOF
Zoning rules - Business zone
Zoning rules - Heritage
Lease to Cafe
Property Details
Property Type
Commercial Real Estate
Development Opportunities
Development Site

Sale Type
Investment (on Leasehold Land)

Region
Otago
Physical Address
1 Tyne Street, South Hill, OAMARU 9400
Price
Building on leasehold land $1,600,000 + GST (if any)
Contact Agents
Peter Gale
Tourism & Hospitality Business Broker
South Canterbury, Waitaki, Otago & Northern Southland
International: +64 21 608 107
NZ Mobile: 021 608 107
Email: peter@tourismproperties.com