Add to Watchlist
On Watchlist
Please register your interest on this listing, on the '
Documents Tab
' tab.
Property Ref: 3256
Hotel For Sale, at the start of the Old Ghost Road Trail, West Coast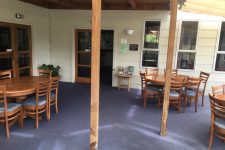 Property Type: Country Pub
Sale Type: Freehold Going Concern
Region: West Coast
Physical Address: 1 Queen stree, Seddonville, Buller 7837
Price: FREEHOLD GOING CONCERN, asking $535,000 +GST if any +stock
Broker: Adrian Chisholm
Mobile: +64 21 727 888
Email: adrian@tourismproperties.com

Perfect spot at the start of the iconic NZ Old Ghost Trail!
Buy your own piece of Rugged West Coast Paradise The Seddonville Hotel land, buildings and business is for sale. Ideally located at the start of the Old Ghost Road Trail, the big kid's playground for mountain biking and hiking.
Whats On Offer There are 6 comfortable motel units, self-contained with ensuites and kitchenettes. The motel units are configured to cater for hiking and mountain bike groups and couples traveling on holidays.
Room Configurations Unit One sleeps 4 singles, Unit Two sleeps 1 double, 2 singles and 1 set of bunks, Units Three and Six sleep 2 singles, Units Four and Five sleep 1 double.
The hotel offers a fully licensed restaurant catering for 40 people inside and 32 in the conservatory approx. The bar is the ideal place to relax and enjoy a pre-dinner drink or two after a day's travel or sightseeing. There is a small shop and NZ post service which caters for most traveler's needs.
Opportunities There are 2 vacant blocks of land included in the sale price, sec 1 1087m2, sec 5-7 2385m2 on either side of the hotel. The hotel and motel complex land area is 2003m2 more or less. Street frontage and ideal development for tourist cabins and powered sites for campervans is subject to local council consents.
Owners Residence 3 bedroom family home offering open plan living areas, main hotel kitchen opens up into the living areas with separate laundry and bathroom, ample room for a family with private entrance for privacy.
Ideally this would suit a couple with hospitality experience who are looking to develop the property to cater for the tourist, mountain bikers, and hikers visiting the area.
For more confidential information, please register here on our new website, or to arrange your viewing, please contact Adrian Chisholm, Specialist Tourism Business Broker on Mobile 021727888, or by email at Adrian@tourismproperties.com.
---
About the old Ghost Road
In the North West corner of the South Island of New Zealand a ghost has awakened. A long-forgotten gold miners' road has been revived as a mountain biking and tramping trail – connecting the old dray road in the Lyell (Upper Buller Gorge) to the mighty Mokihinui River in the north. The 85km-long Old Ghost Road traverses majestic native forest, open tussock tops, river flats and forgotten valleys.
A proud member of the New Zealand Cycle Trail, the volunteer-driven Mokihinui-Lyell Backcountry Trust has partnered with a range of other entities to make The Old Ghost Road a reality. It's almost as if the engineers from the 1870's knew we were coming! The spirits of the old miners and track builders are inescapable and four ghost towns populate the route. The Old Ghost Road is quite literally an 85km-long outdoor museum.
Our volunteers and supporters know that each generation grows up in an increasingly urbanised environment. Our connection to the land dims. Here, on The Old Ghost Road, heritage, wilderness, accessibility and storytelling come together in an unforgettable way.
We invite you to join the journey……
Confidential Documents
Full Listing Information for this Tourism Business will be disclosed to registered, approved Potential Purchasers.
Become a Registered User:
To gain access and download full confidential individual files on businesses for sale on this website, you must first be a registered user, and have ticked the box that you agree to the strict terms and conditions of the confidentiality agreement, provided by TourismProperties.com.
This is a simple two-minute process, which you can complete by selecting 'Register' at the top right hand of your device now.
If you are already registered with us:
You can request full access to this listing's confidential files by:
Logging in with your existing user name (your email used to register) and your password, then by
Locating the listing you are interested in viewing Listing Files, then
Navigating to the 'Documents' tab, of the listing you are interested in, and
Selecting 'Request Access' to the confidential information here within.
We will quickly respond confirming your approval.
When you are emailed your 'access approval' notification, you need to be logged in to our website, in order to view and/or download the confidential files, which are located in your 'Document Library'.
If you are already logged in now:
Simply register your interest here, by navigating to the 'Documents' tab, and selecting 'Request Access' to the confidential information here within, and Adrian will come back to you by email with your access notification.
---
Seddonville - 2016-2019 Financial Report
Seddonville - Rates Invoice
Seddonville - QV Report
Great West Coast hospitality! We were welcomed here after riding the Old Ghost Road and the food, beer, service and accommodation were terrific! Nothing was a bother for Graeme and he was happy to share his local knowledge with us. Definitely a great place to stay and could easily have stayed longer if time had allowed. Thanks Graeme!
Brilliant! We stayed the night here before beginning our Old Ghost Road adventure.
Accommodation: There were three of us and we had a room which could sleep 6. Very spacious with a kitchen and bathroom. Comfortable beds and pillows. No complaints.
Bar: Really, really loved chatting to the locals at the bar. We had a few beers and dinner. The fish burger was amazing. We talked about it a lot during our following five day tramp and wished we could have come back for another one at the end. We played games in the bar and chatted. Great in every way. The valley where the hotel is situated is beautiful. Real west coast ruggedness.  Thank you so much for everything!
A great base for exploring this part of the West Coast We can't fault our stay at the Seddonville Hotel for service and value for money. It was our base while some of our party completed the Old Ghost Road and is ideal for trips to Karamea and Westport and between.
Source: Online reviews & Feedback.
Property Details
Property Type
Country Pub

Sale Type
Freehold Going Concern

Region
West Coast
Physical Address
1 Queen stree, Seddonville, Buller 7837
Price
FREEHOLD GOING CONCERN, asking $535,000 +GST if any +stock
Contact Agents
Adrian Chisholm
Principal
Head Office | Lower North Island, Canterbury, Marlborough, Tasman, Upper West Coast, Central Otago, Fiordland & Southland
International: +64 21 727 888
NZ Mobile: 021 727 888
Email: adrian@tourismproperties.com