Add to Watchlist
On Watchlist
Please register your interest on this listing, on the '
Documents Tab
' tab.
Property Ref: 3554
Mt Somers Tavern Freehold Going Concern for Sale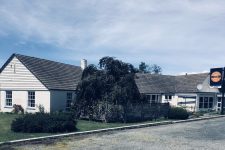 Property Type: Bars, Taverns
Sale Type: Freehold Going Concern
Region: Canterbury
Physical Address: 70 Hoods Road, Mount Somers
Price: $485,000 + GST if any + Stock
Broker: Brad Watts
Mobile: +64 21 278 0919
Email: brad@tourismproperties.com

A rare opportunity to own and operate the Mt Somers Tavern. My clients are selling the land, buildings and business after 7 years. The property is ideally located in an area that attracts hikers, mountain bikers, fisherman, hunters and tourist to the breathtaking landscape of middle earth.
Whats on offer. The tavern is on freehold land 4048m2 more or less. There is vacant land at the rear of the property to expand and build accommodation cabins to cater for the tourism growth, subject to local council consents. Private owners residence offering 4 bedrooms, living area, large kitchen & laundry facilities. There is also an option to convert 2 rooms into B&B accommodation including a sleepout attached to the back the garage.
The Tavern is open 7 days a week for meals catering for 40 guests in the dining room and up to 30 guests in the garden area approx. The Tavern has a bottle store off the main bar at the front of the property for takeaways. There are no brewery contracts in place which allows the operator to expand into local craft beers for the tourists. There is a satellite kitchen ideally located between the main bar and dining room making it easy for 1 for 2 people to operate the business during service periods.
Opportunities. With the increase in tourists visiting the local attractions in the area, I see the growth during the summer months catering for light meals, hot & cold display cabinet food and expresso coffee during the day.
Brokers Comment. This opportunity is affordable for first-time business owners to buy the freehold land, buildings and business, it would suit hospitality professionals looking to own and operate their own business in middle earth and escape the hustle and bustle of the big city life. For more information please contact Brad Watts Mob: 02012780919 or email: brad@tourismproperties.com or you can register online with us by clicking the red registration button at the top of this page.
Mount Somers, Canterbury, New Zealand – Situated on the Inland Scenic Route 72 halfway between Christchurch and the Mackenzie Basin, Mt Somers is a great place to explore the central South Island of New Zealand. Mt Somers Village offers all you need to make your stay comfortable.
Mt Somers is the gateway to one of Canterbury's top ecotourism locations. Mt Somers Conservation Area offers shorts bush walks and physically demanding tramps. Come and explore the breathtaking landscape of Middle Earth on a Lord of the Rings Tours in Mt Somers. See for yourself the settings of scenes from Middle Earth like, the Shire, the Gardens of Isengard, the River Anduin, Helms Deep, Pelennor Battle Fields and much more.
Lake Clearwater and the nearby lakes Camp, Heron and Emma are situated in the superb alpine scenery of the Foothills. They offer a variety of watersports such as: Salmon and trout fishing, Windsurfing, Kayaking, Jet skiing and water skiing.
Mt Somers Conservation Area – Highlight is the Mt Somers Track (former Mt Somers Sub-alpine Walkway, 17km, 1-2 days), that links the popular picnic spots of Woolshed Creek and Sharplin Falls. There are serveral walking tracks and easy tramping tracks from 30 minutes to 4 hours amongst historic coal mines, impressive volcanic formations, a deep river canyon in the Mt Somers Conservation Area.
Skiing and Snowboarding on Mt Hutt – In winter you can find the best and most developed ski and snowboard area in the southern hemisphere, with a bungy jump into the powder of Mt Hutt. Nearby Mt Potts offers Heli Ski and Snowcat Ski. Other ski fields are located in Temple Basin, Craigieburn, Broken River, Mt Cheeseman, Porter Heights and Mt Olympus. In summer the Canterbury high country is a great place for bush-walking and examining a unique flora: 130 species of alpine plants can only be found on Mt Hutt.
Walk Canterbury - Mt Somers
Confidential Documents
Full Listing Information for this Tourism Business will be disclosed to registered, approved Potential Purchasers.
Become a Registered User:
To gain access and download full confidential individual files on businesses for sale on this website, you must first be a registered user, and have ticked the box that you agree to the strict terms and conditions of the confidentiality agreement, provided by TourismProperties.com.
This is a simple two-minute process, which you can complete by selecting 'Register' at the top right hand of your device now.
If you are already registered with us:
You can request full access to this listing's confidential files by:
Logging in with your existing user name (your email used to register) and your password, then by
Locating the listing you are interested in viewing Listing Files, then
Navigating to the 'Documents' tab, of the listing you are interested in, and
Selecting 'Request Access' to the confidential information here within.
We will quickly respond confirming your approval.
When you are emailed your 'access approval' notification, you need to be logged in to our website, in order to view and/or download the confidential files, which are located in your 'Document Library'.
If you are already logged in now:
Simply register your interest here, by navigating to the 'Documents' tab, and selecting 'Request Access' to the confidential information here within, and Adrian will come back to you by email with your access notification.
---
Mt Somers - Financial Report
Mt Somers - P&L Report
Mt Somers - QV Report
Property Details
Property Type
Bars
Taverns

Sale Type
Freehold Going Concern

Region
Canterbury
Physical Address
70 Hoods Road, Mount Somers
Price
$485,000 + GST if any + Stock
Contact Agents
Brad Watts
Tourism & Hospitality Business Broker
Canterbury, Marlborough, Tasman & Upper West Coast
International: +64 21 278 0919
NZ Mobile: 021 278 0919
Email: brad@tourismproperties.com