Add to Watchlist
On Watchlist
Please register your interest on this listing, on the '
Documents Tab
' tab.
Property Ref: 4405
Glenavy's Waitaki River Motor Camp – Tap into the Booming Tourism Industry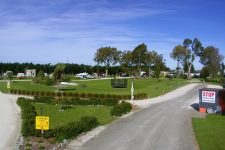 Property Type: Development Site, Holiday Parks / Caravan Parks, Development Opportunities
Sale Type: Freehold Going Concern
Region: Otago
Physical Address: 7-9 Cherry Lane, Glenavy Township, RD10, South Canterbury
Price: Freehold Going Concern - Expressions of Interest Invited
Broker: Peter Gale
Mobile: +64 21 608 107
Email: peter@tourismproperties.com

The owners Anne & Joe have put their heart & soul into this business, but they now wish to pursue other interests.
They purchased a very run-down camp-ground with no business at all and in 4 ½ years have developed it into a superb Qualmark-rated 4-star motor camp.
They have just been awarded the 2018 Tripadvisor Certificate of Excellence for the second time. This is for the consistent achievement of high ratings from travellers. Booking.com is rating around 8.9% – Fabulous.
After significant development and upgrading of the grounds and buildings, the business is now starting to show reasonable return which is improving month by month.
In the first 8 months of this financial year they are up by approximately 35% turnover on the same period last year and steadily improving.
There are all sorts of options for new owners including adding additional cabins and/or powered sites or perhaps subdividing some of the spare land.
This must be seen to be appreciated! Featuring a substantial land-holding, outstanding location and well-maintained grounds and modern amenities this business currently consists of the following:
3 x freehold land titles total 1.8169 hectares as per:
4 x modern cabins
2 x caravans
36 x large powered site
Recently added 2-bdrm owner/manager accommodation and office
Amenities block with showers, toilets, and laundry facilities, kitchen and new lounge/TV room with outdoor covered dining area
EV 'friendly'- Electric vehicle charger, Britz has just purchased 10 electric motorhomes and Glenavys Waitaki River Motor Camp is on their itinerary.
There is considerable scope for further development on the back of rapidly increasing visitor numbers. Guests are a good mix of Kiwis and International travellers. Because this business is just in its infancy the current trading figures do not reflect the massive potential. As such there is minimal goodwill factored into the owner's price expectations.
Expressions of interested are invited from parties with the indicative price range being NZ$750,000 – $1M (plus GST if any)
If the price is right, the owners will also include an additional Freehold section which has its own power and water and runs adjacent to the camp boundary [1,420m2]
Confidential Documents
Full Listing Information for this Tourism Business will be disclosed to registered, approved Potential Purchasers.
Become a Registered User:
To gain access and download full confidential individual files on businesses for sale on this website, you must first be a registered user, and have ticked the box that you agree to the strict terms and conditions of the confidentiality agreement, provided by TourismProperties.com.
This is a simple two-minute process, which you can complete by selecting 'Register' at the top right hand of your device now.
If you are already registered with us:
You can request full access to this listing's confidential files by:
Logging in with your existing user name (your email used to register) and your password, then by
Locating the listing you are interested in viewing Listing Files, then
Navigating to the 'Documents' tab, of the listing you are interested in, and
Selecting 'Request Access' to the confidential information here within.
We will quickly respond confirming your approval.
When you are emailed your 'access approval' notification, you need to be logged in to our website, in order to view and/or download the confidential files, which are located in your 'Document Library'.
If you are already logged in now:
Simply register your interest here, by navigating to the 'Documents' tab, and selecting 'Request Access' to the confidential information here within, and Adrian will come back to you by email with your access notification.
---
Financials & Occupancy 2015 - 2019
Title for Lot 2
Title for Lot 23
Title for Lot 24
Title for Lot 25
Property Details
Property Type
Development Site
Holiday Parks / Caravan Parks
Development Opportunities

Sale Type
Freehold Going Concern

Region
Otago
Physical Address
7-9 Cherry Lane, Glenavy Township, RD10, South Canterbury
Price
Freehold Going Concern - Expressions of Interest Invited
Contact Agents
Peter Gale
Tourism & Hospitality Business Broker
South Canterbury, Waitaki, Otago & Northern Southland
International: +64 21 608 107
NZ Mobile: 021 608 107
Email: peter@tourismproperties.com