Add to Watchlist
On Watchlist
Please register your interest on this listing, on the '
Documents Tab
' tab.
Property Ref: 4852
Kuramea Holiday Park For Sale in Pounawea, The Catlins, NZ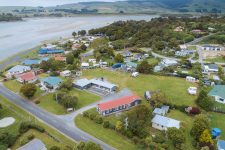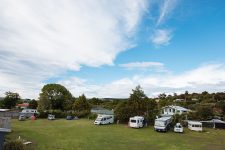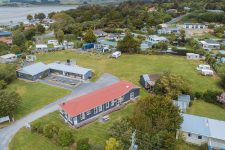 Property Type: Development Opportunities, Development Site, Holiday Parks / Caravan Parks
Sale Type: Freehold Going Concern
Region: Otago
Physical Address: 350 Pounawea Road, OWAKA 9585
Price: FREEHOLD GOING CONCERN, $652,500 + GST (if any)
Broker: Peter Gale
Mobile: +64 21 608 107
Email: peter@tourismproperties.com

X-FACTOR LOCATION * LIFESTYLE BUSINESS * DEVELOPMENT POTENTIAL
Substantial Land & Improvements in this Popular Eco-Destination
Pounawea is a restful beach-side holiday community at the gateway to The Catlins, an increasingly popular tourist destination. It offers magnificent scenery, native bush, bush walks, bird life, wildlife, kayaking and fishing, peace & tranquility
Approx 3mins drive to Owaka, 30mins to Balclutha and 90mins to Dunedin
Land area 6,487m2 with 2 separate access points provides scope for further development, including subdivision (subject to consent)
Significant improvements including approx 14 powered sites, 2 cabins, amenities block and recently renovated (extremely popular) 'flat' split into two self-contained units – 3-bdrm and 4-bdrm that is permitted to sleep up to 17 guests
Opposite the Kids park and just a stones-throw from the picturesque Pounawea Estuary and Surat Bay beach
The business is enjoying strong growth on the back of sound management & recent improvements. Currently only open 7 months of the year the owner/manager can enjoy a Winter break or grow the income by opening for a longer period
The vendors would love to retain this property/business but are heavily committed with other projects and can't do it all! As such they have priced this accordingly and are leaving plenty of upside for the next owner.
VENDOR ARE LEAVING PLENTY OF UPSIDE IN THIS FOR THE NEXT OWNER!
NATURE LOVERS WILL FIND SO MUCH TO DO HERE!
Pounawea is a quiet, seaside settlement 5 minutes' drive from Owaka. It is a restful holiday destination and it sits between the estuaries of The Catlins and Owaka Rivers.
Attractions/Services:
Children's playground with a public tennis court.
Bush and estuary walks including an easy estuary walk known as "The Elbow Track".
The Pounawea Reserve behind the township contains many significant trees, and a walking track through the forest leads to an interesting salt marsh negotiable at low tide.
Wet and Wild activities including kayaking and fishing in the estuary.
Wildlife including bird watching (forest and sea birds).
Confidential Documents
Full Listing Information for this Tourism Business will be disclosed to registered, approved Potential Purchasers.
Become a Registered User:
To gain access and download full confidential individual files on businesses for sale on this website, you must first be a registered user, and have ticked the box that you agree to the strict terms and conditions of the confidentiality agreement, provided by TourismProperties.com.
This is a simple two-minute process, which you can complete by selecting 'Register' at the top right hand of your device now.
If you are already registered with us:
You can request full access to this listing's confidential files by:
Logging in with your existing user name (your email used to register) and your password, then by
Locating the listing you are interested in viewing Listing Files, then
Navigating to the 'Documents' tab, of the listing you are interested in, and
Selecting 'Request Access' to the confidential information here within.
We will quickly respond confirming your approval.
When you are emailed your 'access approval' notification, you need to be logged in to our website, in order to view and/or download the confidential files, which are located in your 'Document Library'.
If you are already logged in now:
Simply register your interest here, by navigating to the 'Documents' tab, and selecting 'Request Access' to the confidential information here within, and Adrian will come back to you by email with your access notification.
---
Financials 2018
Aerial Image & Boundaries
Title
QV Sept 2017
Property Details
Property Type
Development Opportunities
Development Site
Holiday Parks / Caravan Parks

Sale Type
Freehold Going Concern

Region
Otago
Physical Address
350 Pounawea Road, OWAKA 9585
Price
FREEHOLD GOING CONCERN, $652,500 + GST (if any)
Contact Agents
Peter Gale
Tourism & Hospitality Business Broker
South Canterbury, Waitaki, Otago & Northern Southland
International: +64 21 608 107
NZ Mobile: 021 608 107
Email: peter@tourismproperties.com