Add to Watchlist
On Watchlist
Please register your interest on this listing, on the '
Documents Tab
' tab.
Property Ref: 2992
Alpine Accommodation Lodge, Hospitality & Development Opportunity for Sale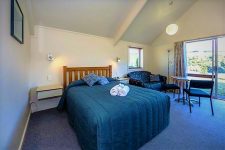 Property Type: Hotels
Sale Type: Freehold Investment - Unit Title
Region: Canterbury
Physical Address: 46 Zig Zag Road, Rd 12, Rakaia, NZ
Price: $1,490,000 + GST if any + Stock
Broker: Brad Watts
Mobile: +64 21 278 0919
Email: brad@tourismproperties.com

A unique opportunity presents itself on the inland scenic route to Mt Hutt Ski Fields. Located at the Rakaia Gorge this business and property offers multiple income streams from timeshare accommodation, restaurant & bar with future development opportunities. Don't miss this opportunity, call me now!
WHATS ON OFFER:
Bar/Restaurant/Reception located at ground level, and includes a small reception area accessing in an open plan format, initially an house bar fully reticulated with split level bar servery, refrigerated bottle cooler and essential bar servery operational facilities.   The house bar has a small customer area with leaners and bar stools, then opens onto the dining room with comfortable seating capacity of approximately 34 guests, which could readily be expanded to increase seating if required. Toilet facilities are provided for patrons. The kitchen, located directly behind the bar servery, is compact, but sufficient area to provide a reasonable volume of meals through a separate door access to the dining area. The commercial kitchen is sufficient to provide a wide menu range.
First Floor Managers Accommodation located directly above the restaurant, and accessed by an internal staircase from the kitchen.  The unit includes two bedrooms, an office (possible further bedroom), main living area and bathroom/toilet. Kitchen facilities are utilised from the restaurant below.  There exists a possibility to include a kitchen and separate toilet with access provided from the external stairs, which are an Accessory Unit to the manager unit.
Studio Unit comprises an area of 28 square metres in an open plan design as living/sleeping/kitchen and separate bathroom facilities. This unit is in very good condition with modern appliances and furniture.
One Bedroom Unit comprises an area of 45 square metres, with one separate double bedroom, open plan living for lounge/dining/kitchen and bathroom/toilet, with sliding doors to a patio area. This unit is well maintained and includes modern appliances and furniture. It's one minor drawback is the interior exposed painted concrete block walls, that as a suggestion, should be strapped and lined with plasterboard for better insulation. This unit appears to be the only unit with this design feature.
Laundry/Drying Room/Maintenance Workshop this area is subdivided into three separate rooms with the laundry including modern new washing machine and clothes dryer, storage cupboard and sinks. The drying room has clothes racks and floor mounted heating beams for wet gear. The workshop has workbench and general storage areas.
Store Sheds features two small store sheds of timber frame construction, with board and batten wall cladding and corrugated iron roof, all supported on a concrete floor slab. These sheds are one third shared with other unit holders.
Buy The Dream, Live The Dream – click here to view the owners take on this fantastic oportunity on offer.
VACANT LAND (Accessory Units GD4, GD5 & GD6)
GD6: This land is defined as a Future Development Unit, with an approximate area of 900 square metres; the land is relatively level with only a slight cross-fall and readily lends itself further development.
GD5: This land comprises an approximate area of 9500 square metres, but drops steeply down from the plateau complex level shelving to moderate slope nearer the bottom to level when it meets the Rakaia Gorge Road below. If vehicle access could be achieved from the Rakaia Gorge Road a degree of development could be achieved, but would be reliant upon the discretion of the Selwyn District Council through the resource Management process. Any such development would need separate sewage treatment and water supply.
GD4: This land comprises an approximate area of 1200 square metres and has a relatively level area, but drops into a steep overgrown gully to a stream bed. This stream was the original water supply to the complex, but has subsequently been superseded by a more certain and pressured supply. However, the original pump house and mechanics are still functional and serve as a back-up for landscaping watering. The residual flat area may well be suitable for further units, but may have limitations.
FUTURE DEVELOPMENT UNIT & RESOURCE CONSENT
This "Future Development Unit" has been defined under the heading Resource Consent above. Under the Resource Consent four conditions have been imposed, being by abbreviation:
Provision of carparking and the building location to be no closer than 2.2 metres from the Zig Zag Road boundary
Only four units be built and each unit to include a kitchen
The design/colours/materials to be in the same appearance as the existing buildings
Existing trees along the Zig Zag boundary to be retained or if removal is necessary then trees of a similar species to be planted within close proximity to those removed
In addition to the above, the subject owner of this development has undertaken the installation of a significant upgrade of the sewage disposal system, which should cater for this proposed development and possibly future developments. Additionally, the water supply volume has been increased to again cater for the expanded development. Such an upgrade will have a positive impact on Accessory Unit GD6, which is almost adjacent to the proposed Future Development Unit site, allowing for further expansionary development; subject to Selwyn District Council decision under a Resource Management application.
Brokers Comments: This property and business opportunity would suit timeshare operators looking to expand into the NZ tourism market, or hospitality professionals looking to enjoy the location and lifestyle on offer in the area. For all confidential enquires please contact Brad Watts Mob: 021 278 0919 or email: brad@tourismproperties.com.
REGIONAL FEATURES & INFORMATION
The property is situated on the eastern side of the Rakaia Gorge with the Zig Zag Road exiting directly opposite the Rakaia Gorge Bridge. The Rakaia Gorge Road forms part of the main inland north/south State Highway 72 with Christchurch some one hour drive time to the north and the nearest service township being Methven some 20 minutes' drive time to the south.     Rakaia Gorge itself is a Mecca for jet boating and salmon fishing and guests staying at the complex have ready access to Mt Hutt ski field and Terrace Downs golf course and its facilities.
Methven Township serves the surrounding rural hinterland which contains high quality cropping and grazing land and is situated at the base of the Southern Alps to the south of the Rakaia River.   Obviously, since the development of the Mt Hutt ski field, the town now has a dual purpose as an agricultural servicing township and as a tourist resort, particularly within the months of the ski season.    The township contains an array of shopping facilities, numerous houses, primary and secondary school facilities, professional services as well as uses associated with the agricultural sector.
Mt Hutt ski field is an internationally acclaimed facility and is the most popular ski field in the Canterbury region by far being the closest ski field to the largest urban area in the south Island, Christchurch city one hours drive for the Lodge.
Confidential Documents
Full Listing Information for this Tourism Business will be disclosed to registered, approved Potential Purchasers.
Become a Registered User:
To gain access and download full confidential individual files on businesses for sale on this website, you must first be a registered user, and have ticked the box that you agree to the strict terms and conditions of the confidentiality agreement, provided by TourismProperties.com.
This is a simple two-minute process, which you can complete by selecting 'Register' at the top right hand of your device now.
If you are already registered with us:
You can request full access to this listing's confidential files by:
Logging in with your existing user name (your email used to register) and your password, then by
Locating the listing you are interested in viewing Listing Files, then
Navigating to the 'Documents' tab, of the listing you are interested in, and
Selecting 'Request Access' to the confidential information here within.
We will quickly respond confirming your approval.
When you are emailed your 'access approval' notification, you need to be logged in to our website, in order to view and/or download the confidential files, which are located in your 'Document Library'.
If you are already logged in now:
Simply register your interest here, by navigating to the 'Documents' tab, and selecting 'Request Access' to the confidential information here within, and Adrian will come back to you by email with your access notification.
---
Mt Hutt Lodge - Valuation Report
Mt Hutt Lodge - Drawing
Mt Hutt Lodge - Financial Report
Ranking: #1 in Area | Total reviews: 40  |  Avg ★ rating: 4.5 stars
What Mt Hutt Lodge guests are experiencing:
Great place to stay for the night   ★★★★★
My partner and I stayed here for a night and it was great. The room was clean, nice, comfortable and warm. The view from our room was INCREDIBLE of Mt Hutt. We went exploring on and under the bridge (not an official path) out the front of the lodge in Rakaia Gorge and got some amazing photos of the beautiful aqua water. The food at the restaurant was good. We drove in Methven for dinner which is about a 10 – 15 minute drive from the lodge and we had a great meal at the local pub- The Brown Pub. The hotel was amazing but there isn't a whole lot to do in the area so it's good for just a night.
Absolute superb place with a stunning view   ★★★★★
The hotel has great riverside views with clean and spacious rooms. The views are absolutely stunning. The restaurant has also delicious foods and a great menu. The people are very hospitable and friendly. Definitely this is the place to stay.
What a View!   ★★★★★
What a view and what a great place to stay! the rooms were so comfy, clean and the best ever bathrooms. The view from the room was breathtaking to see Mount Hutt. We had dinner in the dining room and WOW! the food was beautiful. The lamb melted in your mouth. This place is a definite place to stay and eat! The staff were fantastic!
Awesome views and friendly hosts   ★★★★
Laid back area of NZ amongst sheep farms…we were there after ski season and glad for some downtime. Hung out in Methven and local golf courses. On site restaurant, Chef Butch provides cuisine delicious…with musical entertainment provided by the accomplished Jo on vocals/guitar. We were very comfortable here for a week.
Great place to stay!    ★★★★★
This was our South Island 'base camp' for the week of our visit. Lodge is located on the Rakaia Gorge. Our unit had a spectacular view of the mountains, river and gorge. Accommodations were great! Nicely equipped kitchen. Unit was comfortable and spacious. Laundry facility on site as well. At night, it is so peaceful and quiet. The owners, Butch and Jo, are wonderful and can provide lots of information on the attractions in the area. We loved our stay there
Property Details
Property Type
Hotels

Sale Type
Freehold Investment - Unit Title

Region
Canterbury
Physical Address
46 Zig Zag Road, Rd 12, Rakaia, NZ
Price
$1,490,000 + GST if any + Stock
Contact Agents
Brad Watts
Tourism & Hospitality Business Broker
Canterbury, Marlborough, Tasman & Upper West Coast
International: +64 21 278 0919
NZ Mobile: 021 278 0919
Email: brad@tourismproperties.com