Add to Watchlist
On Watchlist
Please register your interest on this listing, on the '
Documents Tab
' tab.
Property Ref: 3659
Holiday investment apartment for sale at Balmy Buffalo Beach Whitianga Coromandel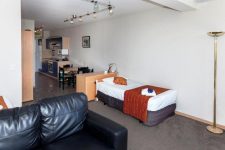 Property Type: Investment Opportunities
Sale Type: Freehold Investment - Unit Title
Region: Coromandel
Physical Address: Unit 5A 71 Buffalo Beach Road Whitianaga
Price: $290,000 GST exempt
Broker: Tom Crawford
Mobile: +64 21 278 9200
71/5A Buffalo Beach Road Whitianga Holiday Investment Apartment
The one bedroom fully furnished apartment is part of the Admiralty Lodge Motel. A Qualmark 5 Star rated property. The unit is ground floor with ocean view and is immediately across the road from the beach.
This is a very popular location for both International and local holiday makers visiting the Coromandel
The one bedroom unit is part of the letting pool with the obvious benefits. If you are looking to invest in Whitianga holiday accommodation then why not consider a unit that generates a return?
As an owner you are entitled to use your apartment up to 20 days per annum, Check the property web www.admiraltylodge.co.nz
Contact the brokers for further information
Whitianga has a magnificent marina, excellent fishing, quality restaurants and cafes and well developed retail, commercial and service sectors. Nearby beaches include Hot Water Beach, Hahei, Matarangi and New Chums Beach
The Coromandel Peninsula is one of the most sought after holiday destinations in New Zealand.
Confidential Documents
Full Listing Information for this Tourism Business will be disclosed to registered, approved Potential Purchasers.
Become a Registered User:
To gain access and download full confidential individual files on businesses for sale on this website, you must first be a registered user, and have ticked the box that you agree to the strict terms and conditions of the confidentiality agreement, provided by TourismProperties.com.
This is a simple two-minute process, which you can complete by selecting 'Register' at the top right hand of your device now.
If you are already registered with us:
You can request full access to this listing's confidential files by:
Logging in with your existing user name (your email used to register) and your password, then by
Locating the listing you are interested in viewing Listing Files, then
Navigating to the 'Documents' tab, of the listing you are interested in, and
Selecting 'Request Access' to the confidential information here within.
We will quickly respond confirming your approval.
When you are emailed your 'access approval' notification, you need to be logged in to our website, in order to view and/or download the confidential files, which are located in your 'Document Library'.
If you are already logged in now:
Simply register your interest here, by navigating to the 'Documents' tab, and selecting 'Request Access' to the confidential information here within, and Adrian will come back to you by email with your access notification.
---
Pre contract disclosure
Letting agreement
Indicative rental return
Visitor Stats Coromandel
Property Details
Property Type
Investment Opportunities

Sale Type
Freehold Investment - Unit Title

Region
Coromandel
Physical Address
Unit 5A 71 Buffalo Beach Road Whitianaga
Price
$290,000 GST exempt
Contact Agents
Tom Crawford
Tourism, Hospitality & Leisure Business Broker
Northland, Auckland & Coromandel
International: +64 21 278 9200
NZ Mobile: 021 278 9200
Email: tom.crawford@tourismproperties.com

Carolynn Crawford
Tourism, Hospitality & Leisure Business Broker
Northland, Auckland & Coromandel
International: +64 21 247 8716
NZ Mobile: 021 247 8716
Email: carolynn.crawford@tourismproperties.com