Add to Watchlist
On Watchlist
Please register your interest on this listing, on the '
Documents Tab
' tab.
Property Ref: 4925
Luxury Lodge & Residence For Sale, Overlooking Lake Te Anau, NZ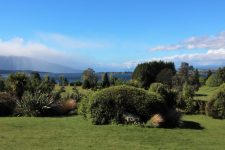 Property Type: B&B Residential Opportunities, Bed & Breakfast, Development Opportunities, Lodges, Luxury Homes
Sale Type: Freehold Going Concern
Region: South Island, Fiordland
Physical Address: 234 William Stephen Rd, Te Anau 9679, New Zealand
Price: FREEHOLD GOING CONCERN FOR SALE, asking $2,000,000 + GST if any
Broker: Adrian Chisholm
Mobile: +64 21 727 888
Email: adrian@tourismproperties.com

Luxury Lodge, plus Residence, overlooking beautiful Lake Te Anau!
Two Stunning Landmark 'log-cabin' buildings are now for sale, on one title!
'The Hollows' is a luxury 2 bedroom log-cabin, plus an additional (currently) residential log-cabin!
Approx 4.2ha of land is on offer here, over-looking stunning Lake Te Anau, & also adjacent to the golf course!
Don't miss this opportunity – Luxury Tourism in Fiordland and Milford Sound is on offer now!
This stunning luxury freehold going concern business and property, is situated on approximately 4.2ha of land, and is on one title, over-looking pristine Lake Te Anau, and all the magnificent mountains of Fiordland.  It is also adjacent to a stunning golf course! There is significant opportunity here to either continue running this business as it currently stands as a Lodge and Residence, or for further development, as the Fiordland Luxury Sector continues to boom!
For more information or to arrange your viewing, please contact specialist Hospitality Business Broker, Adrian Chisholm, AREINZ, on 021 727 888 or email Adrian@tourismproperties.com.
The Hollows, Te Anau
The Hollows at the foot of beautiful Lake Te Anau in Fiordland is now for sale! With two distinct buildings on site and the opportunity to develop the area further, the current vendors are now seeking to move on, after building up this fabulous residence and luxury-tourism accommodation business.
Location Features & Information: Located at the foot of the stunning Lake Te Anau, this location provides seclusion and privacy, as befits the Luxury Tourism Sector, which is a growing sector in New Zealand Tourism. The Waiau River, with its renowned trout fishing reputation, is the nearest neighbour and is only a five-minute walk away. Also nearby is the start of the world famous Kepler track, only a ten minute walk or two minutes by car. There is also ample parking, if guests wish to leave a vehicle whilst walking the tracks.
BUILDING ONE |  The Hollows Luxury Lodge consists of:
Cabin: The Hollows' is a completely self-contained, luxury two-bedroom log cabin, situated at the foot of beautiful Lake Te Anau. The cabin was completed in January 2009, and being self-contained, it offers peace, tranquility and luxury. The distinctive log cabin blends into the native landscaping and offers protected views of the mountains and Lake Te Anau.
Views: Lake Te Anau, Fiordland Mountain Ranges, and overlooks the Number 12 fairway, of the renowned Te Anau Golf Course.
Kitchen: The Log Cabin has a fully equipped kitchen with dishwasher, refrigerator and microwave/convection oven and four plate stove-top.
Lounge: The lounge is equipped with a flat screen television and DVD player, two leather lounge suites, dining table and chairs, and also has a gas fireplace for instant, and effective, warmth.
Connections: Wireless broadband internet connection available and a telephone is also provided
Bathroom: Spacious bathroom with vintage feel, featuring wood vanity, large glass and tiled shower, overhead wall heater, underfloor heating, and heated towel rail.
Laundry: Full size Washing Machine and Dryer, Ironing Board and Iron, and outdoor drying line available.
The Downstairs Bedroom: has a luxurious king size bed.
The Upstairs Bedroom: on the mezzanine floor, there is king size bed, this can split into two singles if required. There is also a king-single bed, that has a pop up trundler bed, that extends to the same height.
Decking: For enjoying the great Fiordland outdoor views.
BUILDING TWO  |  Currently the owners residence
The main residence is a stunning 3-bedroom log cabin, constructed to the same exacting finish as the luxury lodge, with two bathrooms.
There is the opportunity to develop this into an additional luxury lodge.
Development Opportunity to build further cabins on the property, subject to normal Local Council Criteria and Consents.
This property presents an incredible opportunity for hospitality professionals that relish the great outdoors that Fiordland has to offer. Ideal for a couple or family, to make it your new home and playground, and build upon the success that this business holds, or for an astute investor to develop this luxury tourism business further! Don't delay, call me now!
For more information or confidential enquiries: please contact Adrian Chisholm, specialist Tourism Broker on Mobile 021727888 or outside of New Zealand on +6421727888, or by email at Adrian@tourismproperties.com.
---
Gateway to Fiordland
Te Anau is a beautiful lake side town, with a spectacular backdrop of Mt Luxmore and the Murchison mountains which provides the perfect base to explore the area and provides a full range of services to visitors. It is the 'Gateway to Fiordland' being the closest town to Milford Sound, with a scenic 2½ hour drive. The proximity of 3 of New Zealand's 9 Great Walks places Te Anau firmly on the map as 'The Walking Capital of the World'. Fiordland is home to the Milford Track, Kepler Track and the Routeburn Track. Visitors are advised to book in advance during the summer months (particularly in February) as accommodation is in high demand.
Local cafés and restaurants provide a variety of dining options, from fish and chips to fine dining, and the opportunity to sample local Fiordland fare of venison, lobster and other seafood. Te Anau offers seven day a week shopping facilities with competitively priced goods, including high quality apparel, gift and souvenir shops. A full range of services exists within the town including ATM facilities, two major banks, service stations (offering fuel and workshop facilities), rental cars, medical centre and dentist.
Source: DF, NZ.
Steal Away to the bliss and lifestyle overlooking beautiful Lake Te Anau
Confidential Documents
Full Listing Information for this Tourism Business will be disclosed to registered, approved Potential Purchasers.
Become a Registered User:
To gain access and download full confidential individual files on businesses for sale on this website, you must first be a registered user, and have ticked the box that you agree to the strict terms and conditions of the confidentiality agreement, provided by TourismProperties.com.
This is a simple two-minute process, which you can complete by selecting 'Register' at the top right hand of your device now.
If you are already registered with us:
You can request full access to this listing's confidential files by:
Logging in with your existing user name (your email used to register) and your password, then by
Locating the listing you are interested in viewing Listing Files, then
Navigating to the 'Documents' tab, of the listing you are interested in, and
Selecting 'Request Access' to the confidential information here within.
We will quickly respond confirming your approval.
When you are emailed your 'access approval' notification, you need to be logged in to our website, in order to view and/or download the confidential files, which are located in your 'Document Library'.
If you are already logged in now:
Simply register your interest here, by navigating to the 'Documents' tab, and selecting 'Request Access' to the confidential information here within, and Adrian will come back to you by email with your access notification.
---
Listing 4925: Property Overview | Luxury Lodge & Log Cabin Residence For Sale, Overlooking Lake Te Anau, Nz
Listing 4925: Financials | Luxury Lodge & Log Cabin Residence For Sale, Overlooking Lake Te Anau, Nz
Fantastic Escape ★★★★★
We had a lovely 2 night stay at this perfect relaxing cabin. Close enough to Te Anau (5 min drive) for restaurants and activities but out of the hustle and bustle so you can really appreciate the natural wonder of this gorgeous part of the world. Pam ensured we had everything we needed (including more food than you could ever eat in 2 days!). Would highly recommend staying here.
Beautiful lodge that made you feel at home ★★★★★
My partner and I stayed here and absolutely loved it. The lodge can sleep up to 6 people and it would be perfect for a family or even 2 couples. Especially loved the fire, heated up the place nicely. We cooked dinner one night and Pam has thought of everything that is needed, from cling wrap to pepper shakers. A must for those wanting a more intimate experience just a few minutes from town. Gorgeous and thoughtful hosts too!
Magical! ★★★★★
The Hollows is superb. Every aspect of the property was faultless. The location was amazing and 3 nights was simply not enough. Pam's special touches made us feel special.
A Perfect Place to Stay ★★★★★
We were travelling with our 3 boys on the way to Milford Sound. This was the perfect pit stop. It's very close to town but far enough to be secluded. The log cabin had all the touches you would require. It is very obvious that Pam and Mark have put in a lot of thought for all the small things. The breakfast provisions were vast and very plentiful. We were meant to go out for dinner but decide to cook ourselves as it was so cosy. The kitchen is well stock. Laundry facilities and internet. I would strongly recommend this place.
Highly recommended ★★★★★
Stayed 2 nights in Feb 14. Wonderful log cabin – modern, clean with lovely gardens including pet cows and friendly dog. Hosts are very pleasant and helpful but respect your privacy. The fridge and larder are stocked with lovely food and wine. Location is great – near the river if you like fishing and the helicopter we had arranged to fly us over doubtful and dusky sounds landed in the garden to pick us up which was very cool!
Sources: Tripadvisor, New Zealand.
Property Details
Property Type
B&B Residential Opportunities
Bed & Breakfast
Development Opportunities
Lodges
Luxury Homes

Sale Type
Freehold Going Concern

Region
South Island Fiordland
Physical Address
234 William Stephen Rd, Te Anau 9679, New Zealand
Price
FREEHOLD GOING CONCERN FOR SALE, asking $2,000,000 + GST if any
Contact Agents
Adrian Chisholm
Principal
Head Office | New Zealand, Lower North Island, Central Otago, Fiordland & Southland
International: +64 21 727 888
NZ Mobile: 021 727 888
Email: adrian@tourismproperties.com