Add to Watchlist
On Watchlist
Please register your interest on this listing, on the '
Documents Tab
' tab.
Property Ref: 3688
Tourism Business for Sale Coromandel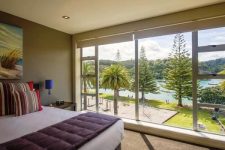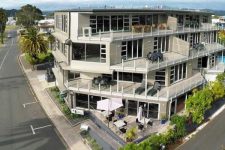 Property Type: Management Rights
Sale Type: Management Rights
Region: Coromandel
Physical Address: 8 Esplanade Whitianga
Price: $920,,000 plus GST(If any)
Broker: Tom Crawford
Mobile: +64 21 278 9200
This is a profitable management rights business!
The Esplanade Apartments Whitianga is in the best location for both International and Local visitors to Coromandel. Located in the heart of Whitianga just 250 metres from the heart of the town centre. A stone's throw from some of the best restaurants in the Coromandel.
The location is very popular with guests as is the accommodation options – one, two and three-bedroom ocean-view apartments,
In the management pool there are 18 apartments comprising one, two and three bedroom apartments. The apartments offer private balconies with choice of views of the swimming pool, the Whitianga marina and wharf or the ocean and beach!
Key features of the apartments:
•Spacious open-plan living
•Designer kitchens
•Sky TV 50+ channels and DVD player
•Private balconies with fantastic waterfront and town views
•Wi-Fi throughout the property
• Spa pool and swimming pool
•Undercover parking
What you are buying
The management rights are 10+10+10 years through to 2039
Managers' freehold unit title unit including adjoining reception and under cover parking.
Income from Body Corp fee and from rentals and service charges. Being in a key tourist destination there is the opportunity to grow both the income and value of the business.
Contact the brokers to arrange an inspection or clarify the benefits of a management rights business
Welcome to Whitianga, the heart of Mercury Bay!
Whitianga is a place where you can do a little or a lot – the pace of life can be as busy or as calm as you choose.
An increasing popular get-a-way spot, Whitianga & the Mercury Bay region is located on the Eastern side of The Coromandel Peninsula, 208kms from Auckland.  The beautiful deep-water harbour has made Whitianga the home of the Mercury Bay Boating club and the main departure point for big game fishing enthusiasts and many other water activities. Also easy access to key visitor tourist spots including Hahei, Cathedral Cove, and Hot Water Beach?
Whitianga has been continuously occupied for more than a thousand years since Maori explorer Kupe's tribe settled here after his visit in about 950 A.D. Now a thriving coastal town with 4,000 permanent residents Whitianga is evolving into a delightful place to visit. It fast becomes one New Zealand's most popular North Island holiday destinations for both local and international visitors.
Whitianga hosts a number of fun and exciting events throughout the year, and offers an excellent selection of fine restaurants and cafes. The thriving retail community provides an interesting collection of outlets, and within a short drive, there are plenty of stunning beaches, scenic walks and beautiful sights waiting for you -Marine Reserve on your doorstep,  many charter boats plying the waters of Mercury Bay for fishing, diving or scenic cruising trips. The Whitianga Marina is a world class New Zealand 'Clean Marina' and a popular stop-off point for both local and international boat owners visiting the Coromandel Peninsula
See more at: www.whitianga.co.nz
Confidential Documents
Full Listing Information for this Tourism Business will be disclosed to registered, approved Potential Purchasers.
Become a Registered User:
To gain access and download full confidential individual files on businesses for sale on this website, you must first be a registered user, and have ticked the box that you agree to the strict terms and conditions of the confidentiality agreement, provided by TourismProperties.com.
This is a simple two-minute process, which you can complete by selecting 'Register' at the top right hand of your device now.
If you are already registered with us:
You can request full access to this listing's confidential files by:
Logging in with your existing user name (your email used to register) and your password, then by
Locating the listing you are interested in viewing Listing Files, then
Navigating to the 'Documents' tab, of the listing you are interested in, and
Selecting 'Request Access' to the confidential information here within.
We will quickly respond confirming your approval.
When you are emailed your 'access approval' notification, you need to be logged in to our website, in order to view and/or download the confidential files, which are located in your 'Document Library'.
If you are already logged in now:
Simply register your interest here, by navigating to the 'Documents' tab, and selecting 'Request Access' to the confidential information here within, and Adrian will come back to you by email with your access notification.
---
Financials March 18
Visitor Stats
Body Corp Rules
BC Fees
Leting Agrement
Management Agreement
Property Details
Property Type
Management Rights

Sale Type
Management Rights

Region
Coromandel
Physical Address
8 Esplanade Whitianga
Price
$920,,000 plus GST(If any)
Contact Agents
Tom Crawford
Tourism & Hospitality Business Broker
Northland, Auckland & Coromandel
International: +64 21 278 9200
NZ Mobile: 021 278 9200
Email: tom.crawford@tourismproperties.com

Carolynn Crawford
Tourism & Hospitality Business Broker
Northland, Auckland & Coromandel
International: +64 21 247 8716
NZ Mobile: 021 247 8716
NZ Mobile: 021 247 8716
Email: carolynn.crawford@tourismproperties.com