Add to Watchlist
On Watchlist
Please register your interest on this listing, on the '
Documents Tab
' tab.
Property Ref: 2579
Absolute Beachfront Motel for Sale – Absolutely!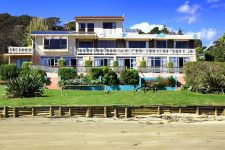 Property Type: Motels
Sale Type: Freehold Going Concern
Region: Northland
Physical Address: 3 San Marino Drive Coopers Beach 0420
Price: $1,385,000 plus GST (If any)
Broker: Tom Crawford
Mobile: +64 21 278 9200
What dreams are made of and now it can be yours.
San Marino Motor Lodge is one of Northland's most iconic motels and definitely an absolute Beachfront on Coopers Beach is now for sale for the first time in 21 years.
With 8 spacious self contained units – all as close to the beach as it's possible to get, each unit enjoys a large sea-fronting balcony and of course, access to the beach. The units are large, comfortable and offer all amenities a beach loving guest requires.
Built originally in 1975, the current owners have refurbished several units including the owners' apartment. The motel is built on three levels and includes off street undercover parking and a concrete area for boats and trailers plus reception and laundry
The owners' 2 bedroom apartment, recently upgraded has a large open plan dining/lounge, kitchen and enjoys great beach views from the BBQ deck. A plus, as part of the owners' accommodation unique "penthouse" self contained studio apartment on the upper storey.
Important Facts:
Building area – 460m2 (more or less)
Land area – 1.060m2 (more or less)
The motel is offered for sale as a Freehold Going Concern at NZ$1.385m plus GST (if any) including Chattels
So an opportunity for newcomers to the Tourism Industry, an investor who will see great opportunities for future development or that city motel owner who craves the glorious lifestyle only a true Beachfront gem like this can offer.
Don't miss this one – call the brokers now to discuss or register on line to download the relevant Financial Documentation.
Coopers Beach is a suburb in the Northland district located in Doubtless Bay and it neighbours Cable Bay and Mangonui. Māori settled in the Northland district at an early stage, because of the fertile land and its location near the top of the island. It was first visited by European missionaries around the 1830s.
Today Coopers Beach is a beautiful coastal town on the east coast of the Northland district. Overall the homes in the area are generously sized and command stunning views of the seaside and golden sand beaches. Being a coastal town with safe swimming beaches and access to a range of water sports, Coopers Beach is a popular destination in the summer. Coopers Beach has its own amenities including a general store, butcher, chemist, petrol station, hardware store, gym., various clubs and other day-to-day services.
Any interest in this property and business should be registered with the business brokers. Contents of this web site do not form part of a contract. While care has been taken in the preparation no responsibility is accepted for the accuracy of the whole or any part and interested persons are advised to make their own enquiries and satisfy themselves in all respects
Confidential Documents
Full Listing Information for this Tourism Business will be disclosed to registered, approved Potential Purchasers.
Become a Registered User:
To gain access and download full confidential individual files on businesses for sale on this website, you must first be a registered user, and have ticked the box that you agree to the strict terms and conditions of the confidentiality agreement, provided by TourismProperties.com.
This is a simple two-minute process, which you can complete by selecting 'Register' at the top right hand of your device now.
If you are already registered with us:
You can request full access to this listing's confidential files by:
Logging in with your existing user name (your email used to register) and your password, then by
Locating the listing you are interested in viewing Listing Files, then
Navigating to the 'Documents' tab, of the listing you are interested in, and
Selecting 'Request Access' to the confidential information here within.
We will quickly respond confirming your approval.
When you are emailed your 'access approval' notification, you need to be logged in to our website, in order to view and/or download the confidential files, which are located in your 'Document Library'.
If you are already logged in now:
Simply register your interest here, by navigating to the 'Documents' tab, and selecting 'Request Access' to the confidential information here within, and Adrian will come back to you by email with your access notification.
---
North;and Visitor Statistics
Financials March 2018
Title
QV 3 San Marino Drive
Property Details
Property Type
Motels

Sale Type
Freehold Going Concern

Region
Northland
Physical Address
3 San Marino Drive Coopers Beach 0420
Price
$1,385,000 plus GST (If any)
Contact Agents
Tom Crawford
Tourism & Hospitality Business Broker
Northland, Auckland & Coromandel
International: +64 21 278 9200
NZ Mobile: 021 278 9200
Email: tom.crawford@tourismproperties.com

Carolynn Crawford
Tourism & Hospitality Business Broker
Northland, Auckland & Coromandel
International: +64 21 247 8716
NZ Mobile: 021 247 8716
NZ Mobile: 021 247 8716
Email: carolynn.crawford@tourismproperties.com