Add to Watchlist
On Watchlist
Please register your interest on this listing, on the '
Documents Tab
' tab.
Property Ref: 3043
Delightful Paihia Motel is For Sale as a Freehold Going Concern.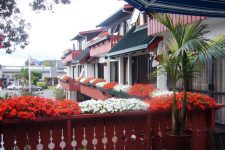 Property Type: Motels, Investment Opportunities
Sale Type: Freehold Going Concern
Region: Northland
Physical Address: 3 Bayview Road Paihia
Price: $2,400,000 plus GST (If any)
Broker: Carolynn Crawford
Mobile: +64 21 247 8716
Truthfully there is nothing neutral about the Swiss Chalet Lodge Motel Paihia – a delightful 10 unit motel.
From its prime location seconds from the stunning beachfront, local amenities, cafes and shops to its charming Swiss inspired exterior this property exudes the 'welcome vibe'
Colourful flower boxes give the first hint that this is a special property and the 10 very spacious guest units continue the theme. Extremely well appointed with touches of glowing Macrocarpa throughout they speak to guest comfort.
The motel configuration is 2 x 1 bedroom apartments and 6 x studios and on the top level a spacious 3 bedroom and 2 bedroom apartments with stunning sea views. All have sunny balconies while some have amazing sea views. Chattels are of a high standard with comfortable beds and smart TVs as an example.
There is a private indoor spa pool and a secluded courtyard and guest BBQ area and grounds and public areas are all easily maintained.
The current owners who have operated the motel for 12 years choose to live off site in a large 2 bedroom unit with open plan living/dining/kitchen. This is located right next door to the motel but gives that important degree of separation.
This is leased on a long term basis and would be available to new owners unless they prefer the onsite option. However this would reduce the turnover.
On this subject, you will be very impressed when you see the bottom line this 10 unit property generates. Run with Swiss precision after 12 years experience and with a loyal housekeeping team with the same long tenure and this all means the new owners will benefit.
Now for the moment of truth and you will be delighted you won't require a Swiss bank account to purchase the property as it's priced to sell at NZ$2.4 million plus GST (if any)
For detailed Financial disclosure and relevant information register on line to download. This is a seriously good business.
Call brokers with any questions – this is a property too good to miss so act now.
Any interest in this property and business should be registered with the business brokers. Contents of this web site do not form part of a contract. While care has been taken in the preparation no responsibility is accepted for the accuracy of the whole or any part and interested persons are advised to make their own inquiries and satisfy themselves in all respects
Paihia is the main tourist town in the Bay of Islands making this an excellent base for exploring the Bay of Islands and Northland. It offers an extensive choice of accommodation with a good sized town centre of restaurants, bars, a wide range of shopping and some beautiful sandy beaches.
From the wharf you can arrange a variety of trips out into the bay.
Close to town is the historic Treaty House at Waitangi which has great cultural significance. In 1840 the Treaty of Waitangi was signed between the Maori and Europeans which marked the beginning of New Zealand as a nation.
Across the Bay is the historic village of Russell once known from its whaling days as the 'Hell hole of the Pacific. Today it offers a more relaxed atmosphere with lots of history it also has the oldest licensed pub in New Zealand. Just 20 minutes drive is the town of Kerikeri with its many vineyards and known for its horticulture. Nearby is Kerikeri basin with two of New Zealand's most historical buildings 'The Stone Store' and 'Mission House'
Confidential Documents
Full Listing Information for this Tourism Business will be disclosed to registered, approved Potential Purchasers.
Become a Registered User:
To gain access and download full confidential individual files on businesses for sale on this website, you must first be a registered user, and have ticked the box that you agree to the strict terms and conditions of the confidentiality agreement, provided by TourismProperties.com.
This is a simple two-minute process, which you can complete by selecting 'Register' at the top right hand of your device now.
If you are already registered with us:
You can request full access to this listing's confidential files by:
Logging in with your existing user name (your email used to register) and your password, then by
Locating the listing you are interested in viewing Listing Files, then
Navigating to the 'Documents' tab, of the listing you are interested in, and
Selecting 'Request Access' to the confidential information here within.
We will quickly respond confirming your approval.
When you are emailed your 'access approval' notification, you need to be logged in to our website, in order to view and/or download the confidential files, which are located in your 'Document Library'.
If you are already logged in now:
Simply register your interest here, by navigating to the 'Documents' tab, and selecting 'Request Access' to the confidential information here within, and Adrian will come back to you by email with your access notification.
---
Financilas Match 2018
Financials 2017
Financials 2016
Chattels
Booking summary
Booking source
Northland Visitor Stats
Property Details
Property Type
Motels
Investment Opportunities

Sale Type
Freehold Going Concern

Region
Northland
Physical Address
3 Bayview Road Paihia
Price
$2,400,000 plus GST (If any)
Contact Agents
Carolynn Crawford
Tourism & Hospitality Business Broker
Northland, Auckland & Coromandel
International: +64 21 247 8716
NZ Mobile: 021 247 8716
Email: carolynn.crawford@tourismproperties.com

Tom Crawford
Tourism & Hospitality Business Broker
Northland, Auckland & Coromandel
International: +64 21 278 9200
NZ Mobile: 021 278 9200
NZ Mobile: 021 278 9200
Email: tom.crawford@tourismproperties.com