Add to Watchlist
On Watchlist
Please register your interest on this listing, on the '
Documents Tab
' tab.
Property Ref: 8869
Mana Motel For Sale in Porirua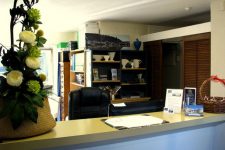 Property Type: Motels
Sale Type: Leasehold Interest (Business)
Region: Wellington
Physical Address: AAA Mana Motel Mana Esplanade, Mana, Porirua, New Zealand
Price: LEASEHOLD INTEREST BUSINESS, asking $675,000 + GST (if any)
Broker: Adrian Chisholm
Mobile: +64 21 727 888
Email: adrian@tourismproperties.com

Opportunity To Own One of the Few Motels in Porirua
Well-established Mana Motel
Featuring 17 accommodation units
Long lease on offer
Good year-round occupancy
Located only 15 minutes north of Wellington
PLUS a heated indoor swimming pool
Close to fishing, windsurfing and a fabulous boating beach!
Perfect for a couple or family to own and operate, register here on our website or give me a call today to find out all the details.
For more information register now or to arrange your viewing, please contact specialist Hospitality Business Broker, Adrian Chisholm, AREINZ, on 021 727 888 or email Adrian@tourismproperties.com.
---
The AAA Mana Motel in Mana is for sale!
The Location doesn't get much better than this – with 10,000 plus cars passing by each day and good occupancies, this motel business should be just about right. Located 15 minutes north of Wellington on State Highway 1 this motel enjoys good occupancies year-round.
There is a variety of fully self-contained accommodation making the motel popular with families, groups, travellers, Contractors and Corporate Trade.
Facilities & Features
Large well fenced grassy outdoor area
BBQ facilities with picnic tables
Heated indoor swimming pool
Children's playground area
Roomy balconies with private seating
5 minute walk to Cafe's, Bar's Restaurants & Supermarket
15 minutes to the cooks strait Ferry Terminal
Close to fishing, windsurfing and boating beach
Rooms
The motel has 17 accommodation units with all units having hush glass and access on to a private grassy courtyard or balcony if upstairs. There are:
6 studio units
6 one-bedroom units
4 two-bedroom units
1 three-bedroom family unit
Owners Accommodation
There is a four-bedroom apartment used by the business owners which includes a private fenced off area for a BBQ & Sun Deck and space for the family pets to go walkabout. The living area and kitchen are adjacent to the large office and reception area.
Porirua – Mana & surrounds
Porirua is a city in the Wellington Region of New Zealand, immediately north of the city of Wellington, with their central business districts 20 km apart. A large proportion of the population commutes to Wellington, so it may be considered a satellite city. It almost completely surrounds Porirua Harbour at the southern end of the Kapiti Coast. The eastern (Pauatahanui) inlet of the harbour is notable for its world-class estuarine values. The population at the June 2012 estimate was 52,900
Mana
Is a suburb of Porirua City in New Zealand. It is a narrow isthmus bounded to the west by the entrance to Porirua Harbour, and to the east by the Pauatahanui inlet of the Porirua Harbour. Mana Island lies about three kilometres west of the isthmus.
All Suburbs
Porirua is largely formed around the arms of the Porirua Harbour and the coastline facing out to Cook Strait and the north-eastern parts of the South Island. Most of the populated areas of Porirua are coastal: Camborne, Karehana Bay, Mana, Onepoto, Papakowhai, Paremata, Pauatahanui, Plimmerton, Pukerua Bay, Takapuwahia, Titahi Bay and Whitby all have direct access to coastal parks and recreation reserves.
Sport and recreation
Porirua is home to the powerful Northern United RFC the current Wellington regional champions, and the smaller Paremata-Plimmerton RFC, both clubs play in the Wellington Rugby Football Union club rugby competition. Watersports, fishing and other boating activities are popular in the area, well served by a large marina in Mana and Sea Scouts, yachting, power-boating, rowing, and water-skiing clubs. The harbour entrance from Plimmerton or Mana is popular with experienced windsurfers and kitesurfers while beginners find the shallow enclosed waters of the Pauatahanui arm of the harbour a forgiving environment in which to develop their skills. Aotea Lagoon is a popular recreational area on the south-eastern shore of the Porirua Inlet.
For more information or to arrange your viewing, please contact specialist Tourism and Hospitality Business Broker, Robert Munro, AREINZ, on 022 422 6720 or email Robert@tourismproperties.com
Discover Wellington Today!
Confidential Documents
Full Listing Information for this Tourism Business will be disclosed to registered, approved Potential Purchasers.
Become a Registered User:
To gain access and download full confidential individual files on businesses for sale on this website, you must first be a registered user, and have ticked the box that you agree to the strict terms and conditions of the confidentiality agreement, provided by TourismProperties.com.
This is a simple two-minute process, which you can complete by selecting 'Register' at the top right hand of your device now.
If you are already registered with us:
You can request full access to this listing's confidential files by:
Logging in with your existing user name (your email used to register) and your password, then by
Locating the listing you are interested in viewing Listing Files, then
Navigating to the 'Documents' tab, of the listing you are interested in, and
Selecting 'Request Access' to the confidential information here within.
We will quickly respond confirming your approval.
When you are emailed your 'access approval' notification, you need to be logged in to our website, in order to view and/or download the confidential files, which are located in your 'Document Library'.
If you are already logged in now:
Simply register your interest here, by navigating to the 'Documents' tab, and selecting 'Request Access' to the confidential information here within, and Adrian will come back to you by email with your access notification.
---
8869 | Mana Motel For Sale | Lease Document A
8869 | Mana Motel For Sale | Lease Document B
8869 | Mana Motel For Sale | Occupancy rates 2017 - 2018
8869 | Mana Motel For Sale | P & L Report
8869 | Mana Motel For Sale | Financials to March 2019 EOS
8869 | Mana Motel For Sale | Financials to March 2019
Nice accommodating staff and a comfortable clean room ★★★★
George and his wife are very friendly and accommodating. The staff are very nice. And the Dogs are very calm. Great experience at this Motel ★★★★★
Place is ok. You can walk to the nearby park and pubs for a meal. ★★★
Clean budget motel on State Highway 1 in Porirua. Nice staff. ★★★★
Source: Online review platforms.
Property Details
Property Type
Motels

Sale Type
Leasehold Interest (Business)

Region
Wellington
Physical Address
AAA Mana Motel Mana Esplanade, Mana, Porirua, New Zealand
Price
LEASEHOLD INTEREST BUSINESS, asking $675,000 + GST (if any)
Contact Agents
Adrian Chisholm
Principal
Head Office | Lower North Island, Canterbury, Marlborough, Tasman, Upper West Coast, Central Otago, Fiordland & Southland
International: +64 21 727 888
NZ Mobile: 021 727 888
Email: adrian@tourismproperties.com