Add to Watchlist
On Watchlist
Please register your interest on this listing, on the '
Documents Tab
' tab.
Property Ref: 4752
Regency Motel, Business Lease For Sale in Ashburton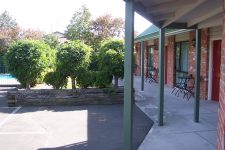 Property Type: Motels
Sale Type: Leasehold Interest (Business)
Region: Canterbury
Physical Address: 820 East Street North, Ashburton
Price: Leashold Business POA
Broker: Peter Gale
Mobile: +64 21 608 107
Email: peter@tourismproperties.com

Always wanted to own and operate your own accommodation business?
Ashburton is the rural hub for Mid Canterbury and the motel accommodates the needs for the corporate market servicing the industries in this region. It also caters for the domestic and international leisure markets during the summer high season and holiday periods. This motel would have to be one of the best presented and cleanest motels I have inspected for some time.
What's on offer:
The Lease: 23 years remain on the lease which expires in 2042. Rent reviews every 2 years, Proportion of outgoings 100%.
The motel units and chattels are in excellent condition due to the ongoing painting, maintenance and replacement schedule.
15 Motel units, configuration: 6 x one bedroom units, 4 x studio units, 4 x two bedroom units and 1 x apartment.
Guest facilities: include a guest laundry, children's play area with trampoline, outdoor pool and entertainment area with BBQ.
Owner's accommodation: Large family home, 2 bedrooms on the second floor with shared bathroom and toilet. On the ground floor there is a master bedroom, separate toilet and bathroom, open plan dining and living areas overlooking the private courtyard garden. The motel reception is conveniently located off the hallway and kitchen area.
Brokers Comments: This is a perfect entry-level motel business for a family or couple. It's the first motel on East Street heading south. It's close to the AMP show grounds and Racecourse. Only 2 km from the main township and shopping prescient, Domain gardens and sports facilities.
To learn more about this opportunity please contact the broker.
---
ABOUT ASHBURTON
It is the bustling hub of the district, at the centre of a compact but amazingly varied region. People stop and stay and are surprised at what they find. Called New Zealand's granary and a destination in it's own right, combining modern city facilities and vibrancy with rural town friendliness.  You'll appreciate the high quality shopping precincts, eclectic cafes and restaurants, craft shops, nationally recognised art gallery and museum and many other hidden treasures.
Ashburton has retained solid, old-fashioned values. Here you will find the most amazing "we can do it" attitude that is reflected in many aspects of life and what's been achieved for the town both in the quality of life and commercial success.
Lake Hood, on the outskirts of Ashburton, is a paradise for water enthusiasts with a wide range of activities including swimming, yachting, boating and waterskiing. Enjoy coffee or dining at the lakefront restaurant and watch the world go by.
Top class sporting facilities cater for all codes and include an international-standard hockey pitch, superb tennis courts and challenging golf courses. Because this is such a good place to live, to bring up the kids, it's also a great place to visit and soak up New Zealand the way we would still like it to be and there's plenty to see and do.
Confidential Documents
Full Listing Information for this Tourism Business will be disclosed to registered, approved Potential Purchasers.
Become a Registered User:
To gain access and download full confidential individual files on businesses for sale on this website, you must first be a registered user, and have ticked the box that you agree to the strict terms and conditions of the confidentiality agreement, provided by TourismProperties.com.
This is a simple two-minute process, which you can complete by selecting 'Register' at the top right hand of your device now.
If you are already registered with us:
You can request full access to this listing's confidential files by:
Logging in with your existing user name (your email used to register) and your password, then by
Locating the listing you are interested in viewing Listing Files, then
Navigating to the 'Documents' tab, of the listing you are interested in, and
Selecting 'Request Access' to the confidential information here within.
We will quickly respond confirming your approval.
When you are emailed your 'access approval' notification, you need to be logged in to our website, in order to view and/or download the confidential files, which are located in your 'Document Library'.
If you are already logged in now:
Simply register your interest here, by navigating to the 'Documents' tab, and selecting 'Request Access' to the confidential information here within, and Adrian will come back to you by email with your access notification.
---
Regency - Occ Stats
Regency - Occ Stats
Regency - lease
Regency - Assignment of Lease
Regency - Financials
Regency - Chattels List
TripAdvisor Feedback 
"Excellent Motel"
This motel is first class, extremely clean and the couple that run the establishment are very professional and friendly. We only had one night but wished we could have stayed a week. We were made very welcome on arrival and before our evening meal we enjoyed a swim in the small pool which was very welcome after a day of driving! The unit we had was very comfortable and had everything we needed. The kitchen was immaculate and provided every implement anyone could possibly need to cook with. A most enjoyable stay and if we return to the area we will definitely stay longer.
"Wonderful stay!"
I found my recent stay at this motel very enjoyable. I was warmly welcomed by the owners little black Schnauzer, Rose, at check in and everything was ready for me. The room (Unit 15) was immaculate, the bed was very comfortable and I found the huge spa bath the perfect way to end the day. It was also very relaxing and quiet being able to sit next to the pool in the sun and read a book – absolute bliss!
The owners were very welcoming and helpful when I was asking them questions about what there was to see and do in Ashburton – they know the area very well an I would highly recommend.
Property Details
Property Type
Motels

Sale Type
Leasehold Interest (Business)

Region
Canterbury
Physical Address
820 East Street North, Ashburton
Price
Leashold Business POA
Contact Agents
Peter Gale
Tourism & Hospitality Business Broker
South Canterbury, Waitaki, Otago & Northern Southland
International: +64 21 608 107
NZ Mobile: 021 608 107
Email: peter@tourismproperties.com