Add to Watchlist
On Watchlist
Please register your interest on this listing, on the '
Documents Tab
' tab.
Property Ref: 2390
Superb Clifton Court Motel Freehold Investment in Tokoroa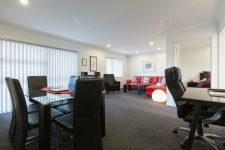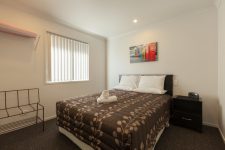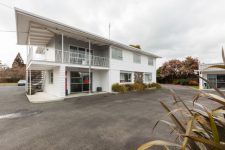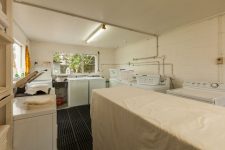 Property Type: Investment Opportunities, Motels, Commercial Real Estate
Sale Type: Freehold Investment
Region: Waikato
Physical Address: 111 Main Rd, Tokoroa
Price: FREEHOLD INVESTMENT by Negotiation (+GST if any)
Broker: Malcolm Teesdale
Mobile: +64 27 530 8738
Clifton Court Motel is frankly amazing!
After 40 years in family ownership, the motel has undergone a four-year transformation that must be seen to be believed. This is not just a superficial redecoration: the motel has been gutted, back to its very solid bones, then completely rebuilt to the highest standards.
At the same time, the owners have been careful to future-proof the property, with features including solar electricity, electric vehicle charging points, LED lighting, on-demand gas hot water, the fastest available broadband, USB chargers, Apple TV and Netflix throughout…
The result has been rewarding: turnover is increasing year on year and the motel rates 4.5 stars on Trip Advisor.
The Property:
Clifton Court sits on 5,134 m2 on State Highway 1.
The motel comprises 18 ground floor units in flexible layout:  5 studios;  9 one-bedroom units;  3 two-bedroom units; and 1 one-bedroom executive suite. There is also "unit 19" adjacent to reception, a one- bedroom unit available for motel minders, or as overflow when the motel is full. Land is available for further units.
Also beside the stylish reception area is the separate motel kitchen. Upstairs is a spacious, four-bedroom owners' home: like the motel units, completely rebuilt.
There's a guest laundry, massive motel laundry, plant room, huge parking, excellent signage, security cameras and more. The chattels throughout are contemporary and stylish, the plant and equipment comprehensive.
The Offer:
We are offering the Freehold Investment (Land & Buildings) at $3.5m. That represents a 7.0% ROI. The 35 year lease has a current annual rent of $245,584.30 +GST. The lessee pays 100% of outgoings and rent is reviewed 2 yearly linked to CPI + 1.0%.
Plus
The lease has been purchased by the previous managers, part financed by the Vendor. The finance contract, Schedule D of the Lease, ($797,932.00 at 3.0% pa interest over 12 years – P&L repayments $85,260 pa) will be assigned to the investor. As of November 2020 the Lessee has repaid $227,360 leaving $570,572 to pay by instalments of $7,105.00 monthly
The purchase price is therefore $3.5m plus $570,572 for a total of $4,070,572. A total ROI of 6.5%.
The rent and lease repayments have been paid on time each month, including through the COVID-19 period.
Qualified enquirers will have access to full financial disclosure, including week by week turnover since 2002 and financial statements for several years.
Clifton Court Motel is a fantastic long-term passive investment opportunity.  It is effectively a brand-new motel but with a proven trading history, generating sound returns under experienced lessees.
At this new reduced price, Clifton Court is a must-see.
About Tokoroa
Tokoroa is a pleasant, family-oriented town, ideally sited on State Highway 1. It services the many significant industries in the area: principally farming, forestry and transport. With no significant competition, Clifton Court is the premier motel in the town and the finest for some distance, attracting regular custom from tourists, corporates and visitors for family occasions.
Why invest in a Motel?
Motels are widely considered to be excellent commercial investments. They offer greater stability of tenancy than conventional commercial investments (shops, factories, offices) because they provide both home and business to a lessee who has made a significant financial commitment to be there.   Lessees are reluctant to walk from their investment as they have too much to lose. In the unlikely case a lessee defaults on rent payments, the investor can re-sell the lease to a new lessee for another full premium and restart the lease term. The freehold owner could be financially advantaged by a lessee's failure.
Banks favour such investments as they generally have long term leases with the freehold owner having little commitment to ongoing repairs and no commitment to the business operation.  These are generally "bottom drawer" investments highly sought-after by family trusts and wealthy individuals.
The lessee must comply with the terms of the lease, paying all costs incurred in running the business, including repairs, maintenance, rates and insurance. The main responsibility of the investor is to normally cover all structural maintenance/repairs.  Because the tenant has bought their business, which is also their home and income source, they will work hard to maintain and build its value – which, in turn, can be positively reflected in the value of the property asset.  The better the lessee/tenant does, the more rent they can afford to pay and ultimately the investment value will grow as well.
Confidential Documents
Full Listing Information for this Tourism Business will be disclosed to registered, approved Potential Purchasers.
Become a Registered User:
To gain access and download full confidential individual files on businesses for sale on this website, you must first be a registered user, and have ticked the box that you agree to the strict terms and conditions of the confidentiality agreement, provided by TourismProperties.com.
This is a simple two-minute process, which you can complete by selecting 'Register' at the top right hand of your device now.
If you are already registered with us:
You can request full access to this listing's confidential files by:
Logging in with your existing user name (your email used to register) and your password, then by
Locating the listing you are interested in viewing Listing Files, then
Navigating to the 'Documents' tab, of the listing you are interested in, and
Selecting 'Request Access' to the confidential information here within.
We will quickly respond confirming your approval.
When you are emailed your 'access approval' notification, you need to be logged in to our website, in order to view and/or download the confidential files, which are located in your 'Document Library'.
If you are already logged in now:
Simply register your interest here, by navigating to the 'Documents' tab, and selecting 'Request Access' to the confidential information here within, and Adrian will come back to you by email with your access notification.
---
Lease
Weekly Turnover
Occupancy
Unit Configuration
Variation of Lease: rent increase
Property Details
Property Type
Investment Opportunities
Motels
Commercial Real Estate

Sale Type
Freehold Investment

Region
Waikato
Physical Address
111 Main Rd, Tokoroa
Price
FREEHOLD INVESTMENT by Negotiation (+GST if any)
Contact Agents
Malcolm Teesdale
Tourism, Hospitality & Leisure Business Broker
Waikato, Taupo, Central Plateau & Bay of Plenty
International: +64 27 530 8738
NZ Mobile: 027 530 8738
Email: malcolm@tourismproperties.com