Add to Watchlist
On Watchlist
Please register your interest on this listing, on the '
Documents Tab
' tab.
Property Ref: 5636
Goldfields Mining Centre & Tourism Complex For Sale near Queenstown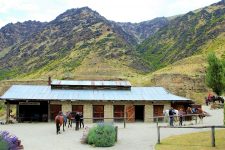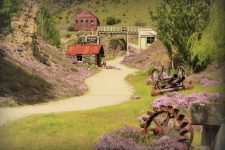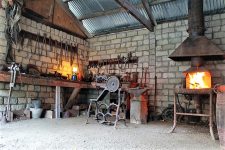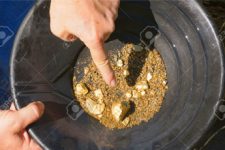 Property Type: Development Opportunities, Leisure, Other Businesses for sale
Sale Type: Leasehold Interest (Business)
Region: Queenstown, Central Otago, South Island
Physical Address: 803 Kawarau Gorge Rd, State Highway 6, Cromwell 9384
Price: LEASEHOLD INTEREST BUSINESS FOR SALE, Price On Application
Broker: Adrian Chisholm
Mobile: +64 21 727 888
Email: adrian@tourismproperties.com

Unique Opportunity to secure a very special and authentic historical site in Central Otago • Fabulous Long Lease! • Situated near Queenstown! • Potential PLUS for future development! • Soon to have the famous Cycle Trail coming through • Get in now and let your imagination run! • Don't let this opportunity pass by! • Call Adrian NOW on 021727888!
The Goldfields Mining Center offers tourists an interactive glimpse at the history that paved the way for today's tourist towns of Queenstown, Arrowtown, Cromwell and Wanaka. Step back in time and be enchanted and amazed by the history and resilience of those that made Central Otago their home… and the draw card that Gold can still be found here!
The Goldfields Mining Centre is located on the banks of the spectacular Kawarau River, just 40km from Queenstown, and 10 km from Cromwell. The Goldfields Mining Centre is an historic reserve, which has been set aside by New Zealand's Department of Conservation to preserve an authentic mining site where gold has been mined for over 100 years and gold can still be found in the rocks & gravels of this unique and very special area.
On offer is an extremely long 30 year lease, for Goldfields Mining Center, which commenced on 1st September 2017, and continues through until 31st August 2047!
Activities and points of interest currently available at the Goldfields Mining Centre, and included in the sale are:
Gold Panning – The Centre is licensed for gold fossicking and many visitors find and take home gold they have found in the virgin soils.
Guided Tours – The Goldfields Mining Centre offers 2 tours of the park, to enable visitors to gain an appreciation of New Zealand's early gold mining history. All visitors have the opportunity first hand to see and handle the gold for which the park is famed.
Chinese Village – A replica Chinese Village, with miner's store and shacks evoke a period long since gone.
Gold Mining Equipment – The power generated by the sluice guns is demonstrated as part of every tour, alongside the operation of one of the few remaining stamper batteries (used to crush the gold-bearing ore) still functioning in New Zealand.
The Bank – An original Bank of New Zealand bank brought to the site at Goldfields, which can be converted for a variety of uses, such as a wedding venue, meeting venue (for up to 75 people) or as an intimate dining room (for up to 50 people).
The Stables – A gorgeous converted mud-brick building, which can be transformed into a magical venue for events and wedding receptions, or larger dinners.   The Stables gives any function a truly rustic ambiance, with its candle lighting, rough hewed timbers, and glass fronted view of an original blacksmith shop.
Other activities operating from the Goldfields Mining Centre that draw tourists include:
An award Winning Winery & Restaurant – Wild Earth is an award-winning winery that creates lunches and refreshments in a totally unique manner utilising wine barrels in which to cook their food.
Goldfields Jet – A spectacular jet boat ride on the mighty Kawarau River takes passengers through the heart of one of New Zealand's most historic mining regions.
The proposed new cycle way from Gibbston and Queenstown comes through the property adding great potential for massively increased visitor numbers.
There is a real opportunity to develop the tourism activities to include hot tubs, accommodation, day spa and salon, horse and cart rides, horse trekking, ice creamery, blacksmith, goldsmith, electric car charging in the carpark and so much more! You are only limited by your imagination!
Potential Plus: This is a tourism 'blank canvas' for an experienced tourism business operator who is looking to expand their portfolio, with additional tourism activities and hospitality businesses, and yet still has further room for development. An additional income stream is provided via the jet boat operation that utilise the facilities at Goldfields. A heli-landing-site is also present in Goldfields Mining Centre, enabling air transfers and luxury connections to surrounding areas, such as Queenstown, Central Otago and even further afield to Fiordland and the West Coast.
For more information: Please contact Adrian Chisholm, your Specialist Tourism Broker on Mobile 021727888 or outside of New Zealand on +6421727888, or by email at Adrian@tourismproperties.com
We look forward to sharing this unique property with you.
The Kawarau Gorge is a major river gorge, located in Central Otago, in the South Island of New Zealand. The Kawarau River flows through the gorge, which is located between the towns of Queenstown and Cromwell, and part of the route of State Highway 6 also follows the gorge.
The gorge begins some 30 kilometres from Queenstown, close to the wine-growing community of Gibbston and the large rock outcrop known as the Nevis Bluff. It continues for some 25 kilometres before the river emerges into the upper valley of the Clutha River close to the settlement of Ripponvale. It is of major historic significance; the Kawarau was the site of much activity during the Otago Gold Rush of the 1860s, and the preserved remains of several miner's cottages (notably those of Chinese migrants) can be seen above the banks of the river. The Roaring Meg hydro scheme and Goldfields Mining Centre are in the gorge. Visitors can experience panning for gold at the Goldfields Mining Centre.
The gorge is noted for its natural beauty, and is also the site of several extreme sports, notably bungy jumping at the Kawarau Gorge Suspension Bridge, and white-water sports such as rafting, kayaking and riverboarding.
Discover Goldfields & More!
Confidential Documents
Full Listing Information for this Tourism Business will be disclosed to registered, approved Potential Purchasers.
Become a Registered User:
To gain access and download full confidential individual files on businesses for sale on this website, you must first be a registered user, and have ticked the box that you agree to the strict terms and conditions of the confidentiality agreement, provided by TourismProperties.com.
This is a simple two-minute process, which you can complete by selecting 'Register' at the top right hand of your device now.
If you are already registered with us:
You can request full access to this listing's confidential files by:
Logging in with your existing user name (your email used to register) and your password, then by
Locating the listing you are interested in viewing Listing Files, then
Navigating to the 'Documents' tab, of the listing you are interested in, and
Selecting 'Request Access' to the confidential information here within.
We will quickly respond confirming your approval.
When you are emailed your 'access approval' notification, you need to be logged in to our website, in order to view and/or download the confidential files, which are located in your 'Document Library'.
If you are already logged in now:
Simply register your interest here, by navigating to the 'Documents' tab, and selecting 'Request Access' to the confidential information here within, and Adrian will come back to you by email with your access notification.
---
5636: Goldfields Mining Centre & Tourism Complex | 30 Year Doc Lease Information
5636: Goldfields Mining Centre & Tourism Complex | Doc Concession Information
5636: Goldfields Mining Centre & Tourism Complex | Confidential Financials
5636: Goldfields Mining Centre & Tourism Complex | Property & Business Overview
5636: Goldfields Mining Centre & Tourism Complex | News Article- Mountain Scene
5636: Goldfields Mining Centre & Tourism Complex | Access & Maintenance Agreement
5636: Goldfields Mining Centre & Tourism Complex | Footbridge & Access Information
5636: Goldfields Mining Centre & Tourism Complex | Heritage NZ Authority
5636: Goldfields Mining Centre & Tourism Complex | Mining Permit
5636: Goldfields Mining Centre & Tourism Complex | Land Use Consent
5636: Goldfields Mining Centre & Tourism Complex | ORC Permits
Interesting visit! ★★★★
We popped past on the way from Queenstown to Dunedin. A good and informative way to spend a few hours. You get to cross a bridge over a beautiful blue river. We did the guided tour to learn about the history of gold mining in the area. The tour of the machinery was really interesting too. Gold panning was fun! The heat made the experience even more authentic
Wish we had allocated more time to walk around the entire place as what we could see from the distance looked so interesting! Unfortunately with 20 month old in tow, we reluctantly had to leave although he did enjoy looking at the machinery.
An excellent excursion ★★★★★
This was a fantastic excursion for adults and children. The guide gave us information about the mine and how it came to be and he was very entertaining and informative. We had teenagers with us and they were absolutely enthralled by all this information. He showed us the primitive yet incredible mining machinery that used technology that was amazingly inventive for those days. Then came the panning which was great fun. The kids were sure they were going to find something huge but, alas, these are nowhere to be found! We were there for nearly 2 hours which was sufficient. The prices were good, costing $25 NZ for adults and $10 NZ for children. We were there in December (Summer) but we're very pleased we'd taken warm clothes as the wind made it fairly cold. The staff were very pleasant and there is a restaurant for younto get a coffee, a drink or something to eat.
Good fun while passing through Cromwell! ★★★★★
Through the tour you get to see a few of the machinery that they use for gold mining. These machinery are actually still working and they give you a real life demonstration of how it works! After that they will demonstrate and let you have a try at gold panning, and yes you get to keep any gold that you find! (If you find any). Anyway I felt it was a rather complete experience and well worth your time if you decide to do it!
Triple gold pass really worthwhile★★★★★
We took our boys (9 & 10yrs old) to do the gold mining tour with Piers and really enjoyed his informative talk on history of gold mining in Otago region and demos of the equipment used to find the gold. Our jet boat ride was also entertaining and 10 min longer than the shot over jet. Our female driver was excellent and gave us plenty of thrills zooming along the river past rock faces with 360 degree spins.
We were then treated to a delicious gourmet lunch paired with tastings of 5 different wines. The smoked merino lamb shoulder was very memorable
I highly recommend to visit! ★★★★★
It is a very interesting place with a very friendly and helpful staff (especially Piers!) leave yourself at least an hour to visit.
Great place to visit and try your luck ★★★★★
We spent a wonderful couple of hours at this old golf mine. Our guide Piers was brilliant. At the end of the tour he showed us how the pan for gold and gave us novices a few tips to find the previous metal. The cafe restaurant is also very good. This place is definitely worth a visit when you are close by.
Family Fun ★★★★★
Finally brought the kid's out to have a visit, was a great day. Jet Boat ride was a real thrill and lots of fun!
Source:

TripAdvisor

, NZ.
Property Details
Property Type
Development Opportunities
Leisure
Other Businesses for sale

Sale Type
Leasehold Interest (Business)

Region
Queenstown Central Otago South Island
Physical Address
803 Kawarau Gorge Rd, State Highway 6, Cromwell 9384
Price
LEASEHOLD INTEREST BUSINESS FOR SALE, Price On Application
Contact Agents
Adrian Chisholm
Principal
Head Office | Central Otago, Fiordland & Southland
International: +64 21 727 888
NZ Mobile: 021 727 888
Email: adrian@tourismproperties.com