Add to Watchlist
On Watchlist
Please register your interest on this listing, on the '
Documents Tab
' tab.
Property Ref: 5315
The Empanada Kitchen, Prime Queenstown Waterfront Biz For Sale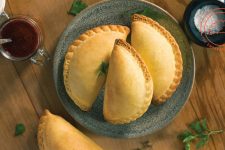 Property Type: Franchise, Investment Opportunities, Other Hospitality, Other Businesses for sale
Sale Type: Leasehold Interest (Business)
Region: New Zealand, South Island, Queenstown, Central Otago
Physical Address: The Empanada Kitchen Beach Street, Queenstown, New Zealand
Price: LEASEHOLD INTEREST BUSINESS FOR SALE, Price By Negotiation
Broker: Adrian Chisholm
Mobile: +64 21 727 888
Email: adrian@tourismproperties.com

Don't miss 'The Empanda Kitchen' in the CBD of Queenstown!
Exceptional small business, with amazing brand, logo, packaging and products!
Opportunity to expand all product ranges & franchise into other regions nationwide!
Distribution channels well established, supplying into supermarkets & other retailers
Here is a fabulous opportunity to own and potentially expand all product ranges & franchise into other regions nationwide! The distribution channels are all well-established, supplying into supermarkets & other specialty retailers. Are you ready to drive this fabulous brand to iconic kiwi startdom? If so, call Adrian now!
For more information or to arrange your viewing, please contact the specialist Hospitality Business Broker, Adrian Chisholm, AREINZ, on 021 727 888 or email Adrian@tourismproperties.com.
---
The Empanada Kitchen on the Waterfront!
Looking for a well established Queenstown based business with huge scalable potential?
The Empanada Kitchen is exactly what you're looking for!
Situated on the Queenstown lake front, the The Empanada Kitchen street food kiosk could not be better placed.
As well as the prime CBD location this business comes with an offsite commercial kitchen and a self contained food truck.
The Empanada Kitchen has excellent brand recognition with its range of sauces sold nationwide, and frozen empanada products currently sold locally.
The product range is an area with great opportunity for expansion with well established retail and wholesale distribution networks already in place.
Opportunity to expand all product ranges & franchise into other regions nationwide.
Distribution channels well established, supplying into supermarkets & other retailers.
Brand new listing, call Adrian now!
Purchase highlights:
Prime Queenstown CBD located street food kiosk
Offsite commercial kitchen
Self contained food truck
Exceptional brand recognition
Logo / Website
Very active social media presence
Established retail and wholesale products with a high level of scalabilty
Retail and wholesale distribution networks
The Empanada Kitchen ethos:
Simple Things Done Well.
Our focus is on small-town South American and European street food for the working class hero.
Mauro's food-centric family and heritage has made him curious to keep experimenting and evolving. Our experience has culminated in the belief that people appreciate and savour raw simple flavours, without any "enhancements".
We don't want people to forget what good food is supposed to taste like. Our aim is to avoid monotony, by changing our flavours all the time, and constantly experimenting with different products, and collaborating with other local Queenstown makers.
Based in Queenstown, in the heart of Central Otago, New Zealand, we believe in good and honest food, done simply, done well.
Brokers comments: The Empanada Kitchen is a business poised to leap to the next level.
With the perfectly placed lake front kiosk, it's self contained food truck that has an established presence at major events, and it's award-winning products already available nationwide. There are many opportunities for the right person or group to expand this already successful business. Don't delay, call me now!
For more information: Please contact Adrian Chisholm, specialist tourism broker on Mobile 021727888 or outside of New Zealand on +6421727888, or by email at adrian@tourismproperties.com
---
Queenstown is the Southern Hemisphere's Playground!
A premier four season, lake and alpine, resort, Queenstown's stunning scenery, huge range of activities and renowned warm welcome cement its reputation as New Zealand's favourite visitor destination. Surrounded by majestic mountains and set on the shores of crystal clear Lake Wakatipu, the natural beauty and the unique energy of the region create the perfect backdrop for a holiday full of adventure, exploration or relaxation.
Over 2 million visitors are drawn to Queenstown each year, including adventurers, filmmakers, wine enthusiasts, Hollywood and Bollywood stars and US Presidents to enjoy their own unforgettable travel experience. Visitors come to experience our unique scenery, search for adventure, seek out relaxation and rejuvenation, or to just breathe our pure mountain air.
The Queenstown region is world-famous for adventure and is the birthplace of many iconic activities including commercial bungy jumping and jetboating. Other activities guaranteed to get your blood pumping include white water rafting, ziplining, 4×4 off-roading, snowsports, paragliding and skydiving. The region is also home to plenty of hiking and biking trails, guided tours, family activities, boat cruises, scenic flights or spa and wellness centres.
Central Queenstown is a sophisticated town with a fantastic choice of restaurants, a lively bar scene and excellent shopping. The picturesque town sits on the edge of Lake Wakatipu and you'll experience a unique energy and atmosphere all year-round.
Source: DQ, NZ.
Confidential Documents
Full Listing Information for this Tourism Business will be disclosed to registered, approved Potential Purchasers.
Become a Registered User:
To gain access and download full confidential individual files on businesses for sale on this website, you must first be a registered user, and have ticked the box that you agree to the strict terms and conditions of the confidentiality agreement, provided by TourismProperties.com.
This is a simple two-minute process, which you can complete by selecting 'Register' at the top right hand of your device now.
If you are already registered with us:
You can request full access to this listing's confidential files by:
Logging in with your existing user name (your email used to register) and your password, then by
Locating the listing you are interested in viewing Listing Files, then
Navigating to the 'Documents' tab, of the listing you are interested in, and
Selecting 'Request Access' to the confidential information here within.
We will quickly respond confirming your approval.
When you are emailed your 'access approval' notification, you need to be logged in to our website, in order to view and/or download the confidential files, which are located in your 'Document Library'.
If you are already logged in now:
Simply register your interest here, by navigating to the 'Documents' tab, and selecting 'Request Access' to the confidential information here within, and Adrian will come back to you by email with your access notification.
---
Listing 5315: Chattels List | The Empanada Kitchen, Prime Queenstown Waterfront Business For Sale
Listing 5315: Lease Information | The Empanada Kitchen, Prime Queenstown Waterfront Business For Sale
Listing 5315: Trading Figures | The Empanada Kitchen, Prime Queenstown Waterfront Business For Sale
Best empanadas outside of Chile ★★★★★
If you're in Queenstown and a bit peckish after rafting/jetboating/lugeing/bungy jumping or whatever gets you hungry then you've got to try the empanadas at The Empanada Kitchen on the lakefront.
Tasty Tasty Tasty ★★★★★
A small store; easy to miss and close to the waters, that only sells Empanada. Ask the owner what goes well with which empanada and his eyes will light-up and he will be more than happy to share his suggestions. We tried the beef and chicken one and both were delicious
100% recommended ★★★★★
Delicious empanadas, we tried the cheese and ham, yummy!!, the owner is very friendly, 100% recommended.
South American influence, worth revisiting ★★★★★
South American influenced food consisting of pastry with meat fillings. The lamb was really nice. So good we went back for a second meal!
Delicious and fresh ★★★★★
Surprisingly fresh, as I honestly questioned how it would taste when looking through the glass display. Had the lamb one, and it was so hot as though just out of the oven. It is generously packed with lamb and favour. Pastry was soft. All empanadas were $6.00. Free fresh sauces- the spicy capsicum was the best.
Must try in Queenstown! ★★★★★
My husband and I loved the empanadas so much that we went back for seconds! Happy to have a delicious and affordable meal in such a picturesque location. Highly recommend making time for it during your visit to Queenstown!
Breakfast Empanadas! ★★★★★
Stopped in as my egg allergic girlfriend couldn't find very little in the way of breakfast options. Was only looking to buy 3 total but ended up enjoying it so much we walked away with three each. The flavours were incredible! And learning that the chef uses prime cuts for his Empanadas made it all so much better. The traditional home made sauces are incredible with each of the options and the fact the flavours rotate every time is amazing. Try the Beef, Blue cheese and Stout, it was amazing. Came for the Empanadas, stayed for the banter.
Source: Tripadvisor, NZ.
Property Details
Property Type
Franchise
Investment Opportunities
Other Hospitality
Other Businesses for sale

Sale Type
Leasehold Interest (Business)

Region
New Zealand South Island Queenstown Central Otago
Physical Address
The Empanada Kitchen Beach Street, Queenstown, New Zealand
Price
LEASEHOLD INTEREST BUSINESS FOR SALE, Price By Negotiation
Contact Agents
Adrian Chisholm
Principal
Head Office | New Zealand, Lower North Island, Central Otago, Fiordland & Southland
International: +64 21 727 888
NZ Mobile: 021 727 888
Email: adrian@tourismproperties.com