Add to Watchlist
On Watchlist
Please register your interest on this listing, on the '
Documents Tab
' tab.
Property Ref: 2232
PRICE DROP | Medewi Bay Retreat for sale in Beautiful Bali, Indonesia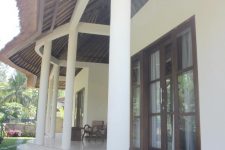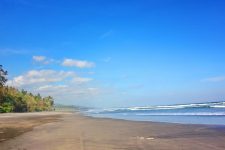 Property Type: Resorts
Sale Type: Freehold Going Concern
Region: Rest of the World
Physical Address: Negara, Bali, Indonesia
Price: MASSIVE PRICE REDUCTION TO AU $2m, with Vendor Finance Available*
Broker: Dilan De Silva
Mobile: +64 27 444 9692
Email: dilan@tourismproperties.com

*** Price Reduced and Vendor Finance Available! ***
Medewi Bay Retreat is the perfect destination for those seeking a quiet relaxing holiday in a stunning tropical island setting. In fact, there is no better way to discover the real Bali.
Just two hours' drive from Kuta, on the lush West coast of Bali, Medewi Bay Retreat is nestled among spectacular mountains, surrounded by ocean and coconut plantations. Just minutes away are the famous surf beaches of Medewi and Balian Beach.
Set in some 8,900 m2 of lush tropical gardens, the resort accommodations currently include some 27 units:
16 studios (12 more are under construction)
6  one-bedroom villas (2 of which share a private pool)
3  two-bedroom suite villas
1 three-bedroom villa
1 two-bedroom pool villa (with another under construction)
The stylish rooms are elegantly furnished with quality chattels. Each studio or villa features a private balcony/terrace with garden views, living room and dining area, kitchenette/kitchen complete with a minibar and tea/coffee-making facilities.
The resort also features a reception lobby with gift/souvenir shop; a bar/restaurant seating 60 with associated commercial kitchen; and a spectacular pool and spa complex.
Medewi Bay Retreat is running very successfully at an average 80% occupancy.  Only the owner's desire to retire has brought about this sale.
The Offer:
We offer for sale the Freehold Going Concern of Medewi Bay Retreat. The sale includes all chattels necessary to the operation of the resort.
The indicative price of AU$2.0 million is for the resort as described, with 27 lettable units. However, Medewi Bay Retreat is a living, growing organisation with new units always under construction (there is still enough empty lot space to build 12 more condominiums and 5 more villas). Other units may be offered for sale to individuals. The final selling price will be negotiated on the basis of the resort status at the time of sale.
Full financial disclosure will be available under due diligence.
* VENDOR FINANCE IS AVAILABLE TO APPROVED PURCHASERS
Note: Foreigners are not able to own Indonesian land in their own name. However they are permitted to lease land in their own name, and that right is legally enforceable in an Indonesian court of law. To make the transaction as secure as possible for a foreign purchaser, a 100 year renewable lease will be created.
Confidential Documents
Full Listing Information for this Tourism Business will be disclosed to registered, approved Potential Purchasers.
Become a Registered User:
To gain access and download full confidential individual files on businesses for sale on this website, you must first be a registered user, and have ticked the box that you agree to the strict terms and conditions of the confidentiality agreement, provided by TourismProperties.com.
This is a simple two-minute process, which you can complete by selecting 'Register' at the top right hand of your device now.
If you are already registered with us:
You can request full access to this listing's confidential files by:
Logging in with your existing user name (your email used to register) and your password, then by
Locating the listing you are interested in viewing Listing Files, then
Navigating to the 'Documents' tab, of the listing you are interested in, and
Selecting 'Request Access' to the confidential information here within.
We will quickly respond confirming your approval.
When you are emailed your 'access approval' notification, you need to be logged in to our website, in order to view and/or download the confidential files, which are located in your 'Document Library'.
If you are already logged in now:
Simply register your interest here, by navigating to the 'Documents' tab, and selecting 'Request Access' to the confidential information here within, and Adrian will come back to you by email with your access notification.
---
P&L 2019
P&L 2016
P&L 2015
P&L 2014
Accommodations
Background Information
Future Developments
Site Plan
Land Certificate (Title)
Property Details
Property Type
Resorts

Sale Type
Freehold Going Concern

Region
Rest of the World
Physical Address
Negara, Bali, Indonesia
Price
MASSIVE PRICE REDUCTION TO AU $2m, with Vendor Finance Available*
Contact Agents
Dilan De Silva
Tourism, Hospitality & Leisure Business Broker
Upper South Island of NZ and Sri Lanka & the Maldive Islands
International: +64 27 444 9692
NZ Mobile: 027 444 9692
Email: dilan@tourismproperties.com