Add to Watchlist
On Watchlist
Please register your interest on this listing, on the '
Documents Tab
' tab.
Property Ref: 8117
River Ridge Retreat – Serenity & Stunning Potential in the Catlins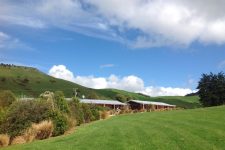 Property Type: Holiday Parks / Caravan Parks, Lodges, Resorts, Other Accommodation, Backpackers, Other Businesses for sale
Sale Type: Freehold Going Concern
Region: Otago
Physical Address: 348 Catlins Valley Road, Owaka, Clutha District, New Zealand
Price: Expressions of Interest Invited - over NZ$1,500,000
Broker: Peter Gale
Mobile: +64 21 608 107
Email: peter@tourismproperties.com

To be frank I've struggled to adequately describe this remarkable property. It is currently an eco-themed functions venue; particularly successful in hosting weddings where guests stay on-site in relative luxury and are treated to an immersive 'all-inclusive' experience that creates life-time memories. But all the elements are here for it to be so, so much more…
The on-site facilities are impressive. At the hub is the large, modern rustic style functions room complete with fully equipped commercial kitchen, chiller and bar area. The Retreat can sleep up to 80 people in comfort, in a mixture of modern self-contained units, shared facilities, and private rooms. Motor-home and tent sites with optional power-point sites provide further options and the expansive grounds have scope for glamping and tent options if required.
As a Kiwi I'm inevitably at risk of taking this spectacular, world-class setting for granted. But even 'locals' can't help but be impressed by this slice of paradise. The beautifully groomed grounds are bounded by the crystal clear Catlins River with a backdrop of rugged native bush-covered hills, stunning ridges, bird life, and the promise of abundant wildlife.
The River Ridge Retreat was established in 1989 where, because of its natural amphi-theatre setting, it was the ideal venue for the multi-day Catlins 'Woodstock' music festival. The festival ran for around 25 years when the venue was known as the Woodstock Lodge & Camp. Times changed and so did the name – to River Ridge Retreat. The current facilities have been progressively developed over the last 25 years.
Currently marketed as an ideal setting for functions such as weddings, conferences, festivals, retreat or special events the underlying business has supported the owners in a comfortable lifestyle for over 8 years. Busy raising a young family they are now seeking a change. It doesn't take much imagination to recognise the considerable range of options for this property, including:
Grow the existing functions and wedding business. This could easily extend to corporate and team-building retreats. The Highlanders (local Super rugby team) spent a few days here to help build the team culture. What better place!
Health & Wellness and/or Eco-Tourism retreat – The Catlins is truly remarkable with a wealth of natural wonders, where lush rainforest spills onto brilliant beaches. Six spectacular waterfalls including the triple tiered cascade at Purakaunui could have been plucked from the pages of a fairy-tale. This incredible coastline is home to the World's rarest penguins, most endangered sea lions and smallest dolphins. The spectacular spur at Nugget Point with its lighthouse perched on a panoramic platform has sensational views. While at stunning Curio Bay the outgoing tide reveals a 180 million year old Jurassic forest, one of only 3 accessible fossil forests on the planet. Low tide is also the time to go to Cathedral Caves which have amazing acoustics and are one of the World's largest sea cave complexes. The Catlins also boasts beautiful birdlife and some of the best surfing in the country with the highest recorded winter waves.
Hunting, Fishing and Outdoor Resort – with great trout fishing in the adjacent river and wild deer in the nearby hills and forest this is paradise for avid hunters! I'm sure that even Oprah Winfrey, Brad Pitt, Taylor Swift or Shaquille O'Neal would love to spend some time here! And there's plenty of flat area to land the chopper!
…or it could be your private little 'bolt-hole' in one of the World's genuinely secluded, tranquil spots…yet only 90 minutes from Dunedin airport!
Note that one of the units was originally established as on-site manager's accommodation but the owners now choose to live off-site. There is plenty of scope for a purchaser to build their own accommodation (subject to required consents) on the property.
The owners have very realistic price expectations that are little more than the cost of an Auckland or Queenstown house! It is expected that the new owners will suitably appreciate this outstanding, rugged region and have the vision and motivation to realise the potential of this stunning property. Expressions of interest over NZ$1.5M are invited from serious buyers.
Improvements/Facilities
The substantial on-site facilities include:
Luxury Two-Bedroom Suite x 3
Self-Contained Queen Studio x1
Self-Contained Accessible Studio x1
One Bedroom Small Studio x2
Comfortable Double Rooms x12
Comfortable Bunk Rooms x2
Large functions room with commercial kitchen and seating capacity of up to 130
About The Catlins
The Catlins, the spectacular coastal stretch between Balclutha and Invercargill, boasts a rugged beauty and untouched quality that is magnetic. Here you'll find a world of native forests fringed by high cliffs, deserted sandy beaches, sparkling bays, cascading waterfalls, hidden lakes, blowholes, caves, and even a petrified forest. These environments are home to an array of fauna, from native birds, to seals, sea lions, dolphins, and penguins. The Catlins' natural landscapes are enthralling and the wildlife is extraordinary.
With its lighthouse perched on a spur of land, Nugget Point (Tokata) provides a breathtaking viewing platform, while Slope Point intrigues as the South Island's southernmost point. At Curio Bay (Tumu Toka) watch the outgoing tide reveal a 180 million year old Jurassic forest. Another must visit lighthouse is the Waipapa Point Lighthouse where you have a big change of seeing some sea lions sunbathe.
Travel inland to view the stunning McLean Falls, Purakaunui Falls and Matai Falls, some of the most photographed waterfalls in the world. There are more waterfalls to explore in The Catlins some more known than the others.
Due to its exposed position, the Catlins' coastline sees some of the country's largest ocean swells, raising impressive waves which nowadays attract big-wave surfers, but in the past have caused numerous shipwrecks. Some of the best surf spots can be found in The Catlins. Places like Tautuku Bay and Curio Bay are good for surfers of all levels, if you're more adventurous and into big wave surfing head over to Papatowaiwhere you can ride swells over 10ft.
Walking tracks allow you to access these special scenic and historic sights. Short walks and longer tracks are scattered around the region, most are accessible straight off the main road, making it a perfect stop when traveling along the Southern Scenic Route.
Aerial fly-over of River Ridge Retreat
Keys Mews ex-All Black talks about The Highlanders team build retreat
Confidential Documents
Full Listing Information for this Tourism Business will be disclosed to registered, approved Potential Purchasers.
Become a Registered User:
To gain access and download full confidential individual files on businesses for sale on this website, you must first be a registered user, and have ticked the box that you agree to the strict terms and conditions of the confidentiality agreement, provided by TourismProperties.com.
This is a simple two-minute process, which you can complete by selecting 'Register' at the top right hand of your device now.
If you are already registered with us:
You can request full access to this listing's confidential files by:
Logging in with your existing user name (your email used to register) and your password, then by
Locating the listing you are interested in viewing Listing Files, then
Navigating to the 'Documents' tab, of the listing you are interested in, and
Selecting 'Request Access' to the confidential information here within.
We will quickly respond confirming your approval.
When you are emailed your 'access approval' notification, you need to be logged in to our website, in order to view and/or download the confidential files, which are located in your 'Document Library'.
If you are already logged in now:
Simply register your interest here, by navigating to the 'Documents' tab, and selecting 'Request Access' to the confidential information here within, and Adrian will come back to you by email with your access notification.
---
Valuation (for insurance purposes)
Draft Financials YE 2019
Forward bookings and forecast profit 2020 (compiled & provided by owners)
Accounts to YE 2018
Chattels
Property Details
Property Type
Holiday Parks / Caravan Parks
Lodges
Resorts
Other Accommodation
Backpackers
Other Businesses for sale

Sale Type
Freehold Going Concern

Region
Otago
Physical Address
348 Catlins Valley Road, Owaka, Clutha District, New Zealand
Price
Expressions of Interest Invited - over NZ$1,500,000
Contact Agents
Peter Gale
Tourism & Hospitality Business Broker
South Canterbury, Waitaki, Otago & Northern Southland
International: +64 21 608 107
NZ Mobile: 021 608 107
Email: peter@tourismproperties.com