Add to Watchlist
On Watchlist
Please register your interest on this listing, on the '
Documents Tab
' tab.
Property Ref: 4070
Country Lifestyle with Cafe and Shop Income in the Coromandel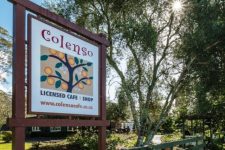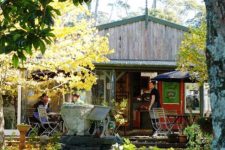 Property Type: Cafes, Development Opportunities, Restaurants
Sale Type: Freehold Going Concern
Region: Coromandel
Physical Address: 895 Tairua Whitianga Road, Whenuakite
Price: $1,295,000 plus GST (If any) plus SAV
Broker: Tom Crawford
Mobile: +64 21 278 9200
Colenso Cafe and Country Store is a landmark stopover for drivers on the Coromandel Peninsula and is being offered for sale as a freehold going concern on a 1.5ha property.
It is well located half way along the Tairua to Whitianga highway and has become a "coffee" destination for tourists and locals. Colenso is known for its quality food, Atomic coffee and clever mix of a country/contemporary environment. This offers considerable scope for an astute buyer to build on.
The cafe, which operates daily from 9.30am to 4pm, has a fully equipped commercial kitchen and has the appropriate Food Handling Plan and liquor licence.
Inside the cafe building, a separate area displays gifts, local art and artisan food for sale – all selected to reflect "the Colenso style. The cafe has indoor and outdoor seating options for over 120 people catering for individuals through to large groups. Exterior seating is under a grove of established fruit trees that provides a tranquil and picturesque setting. A further area of established gardens with a pagoda and a small playground adds to the ambience and provides the ideal setting for weddings, functions or family get-togethers. The business has had only two owners over the past 30 years this includes the current owners. .
The adjoining 3 level home has on the ground floor open-plan kitchen/dining/living area, polished timber flooring, large open fireplace, first floor family bathroom, office/bedroom, second fireplace, formal living area opening out on to a deck. The second floor has three double bedrooms all with French doors providing access out onto the deck with rural views. Master bedroom has an ensuite.,
What you are buying:
·          Colenso Cafe business and brand
·          Colenso Cafe building
·          Office and various storage sheds
·          Four bedroom home
·          1.5ha land
·          Citrus orchard and a large herb and vegetable garden
There is considerable potential to grow the business by creating additional revenue streams
Call the brokers now to inspect this unique rural lifestyle income opportunity.
Any interest in this property and business should be registered with the business brokers. Contents of this web site do not form part of a contract. While care has been taken in the preparation no responsibility is accepted for the accuracy of the whole or any part and interested persons are advised to make their own enquiries and satisfy themselves in all respects
Confidential Documents
Full Listing Information for this Tourism Business will be disclosed to registered, approved Potential Purchasers.
Become a Registered User:
To gain access and download full confidential individual files on businesses for sale on this website, you must first be a registered user, and have ticked the box that you agree to the strict terms and conditions of the confidentiality agreement, provided by TourismProperties.com.
This is a simple two-minute process, which you can complete by selecting 'Register' at the top right hand of your device now.
If you are already registered with us:
You can request full access to this listing's confidential files by:
Logging in with your existing user name (your email used to register) and your password, then by
Locating the listing you are interested in viewing Listing Files, then
Navigating to the 'Documents' tab, of the listing you are interested in, and
Selecting 'Request Access' to the confidential information here within.
We will quickly respond confirming your approval.
When you are emailed your 'access approval' notification, you need to be logged in to our website, in order to view and/or download the confidential files, which are located in your 'Document Library'.
If you are already logged in now:
Simply register your interest here, by navigating to the 'Documents' tab, and selecting 'Request Access' to the confidential information here within, and Adrian will come back to you by email with your access notification.
---
Financials
Valuation March 18
Valuation March 19
Property Details
Property Type
Cafes
Development Opportunities
Restaurants

Sale Type
Freehold Going Concern

Region
Coromandel
Physical Address
895 Tairua Whitianga Road, Whenuakite
Price
$1,295,000 plus GST (If any) plus SAV
Contact Agents
Tom Crawford
Tourism & Hospitality Business Broker
Northland, Auckland & Coromandel
International: +64 21 278 9200
NZ Mobile: 021 278 9200
Email: tom.crawford@tourismproperties.com

Carolynn Crawford
Tourism & Hospitality Business Broker
Northland, Auckland & Coromandel
International: +64 21 247 8716
NZ Mobile: 021 247 8716
NZ Mobile: 021 247 8716
Email: carolynn.crawford@tourismproperties.com