Add to Watchlist
On Watchlist
Please register your interest on this listing, on the '
Documents Tab
' tab.
Property Ref: 8892
Rongotea Tavern For Sale in Manawatu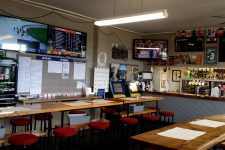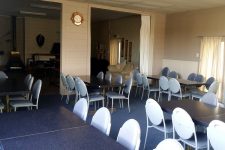 Property Type: Country Pub, Taverns
Sale Type: Leasehold Interest (Business)
Region: Manawatu/Wanganui
Physical Address: Rongotea Tavern, 51 Thames Street, Rongotea, New Zealand
Price: LEASEHOLD INTEREST (Biz), asking $320,000 + GST (if any)
Broker: Adrian Chisholm
Mobile: +64 21 727 888
Email: adrian@tourismproperties.com

Here is a Well-established Tavern & Public Bar for sale!
Large Public Bar, TAB facility, Large Lounge, Function Room
Large parking area
3-bedroom house as Operator/Manager's Accommodation
Two small grazing paddocks
Be an integral part of this wonderful community
Reputation is great, with both locals and regional visitor's
Potential for future development
An enviable work-life-balance is on offer right now – don't delay!
Perfect for a couple or family, offering a wonderful lifestyle, community and future development options, give me a call today to get all the details.
For more information register now or to arrange your viewing, please contact specialist Hospitality Business Broker, Adrian Chisholm, AREINZ, on 021 727 888 or email Adrian@tourismproperties.com.
---
Here is Your Opportunity to Own/Operate a Fabulous 'Local' in Rongotea
The Rongotea Tavern Business  is a great opportunity for a couple or family to set up shop. The Tavern is situated in the small township of Rongotea approximately a 10 minute drive from Palmerston North. The facilities cater for local patrons, special dinners for service groups and other banquets and functions as required.
The Accommodation for the owner/operator is a large 3 bedroom house, situated at the back of the premises, with plenty of garage space and back yard opportunities. The current management choose to graze a few sheep in the paddock adjacent to the tavern buildings.
There is potential to develop the front area to accommodate a great outdoor garden, subject to consents, this would create an inviting space for the locals and also those visiting the region.
Tavern Facilities
Tavern Facilities
Large Public Bar room
TAB Facility
Six Pokie machines
Very Large Lounge area
Large Function Room
Huge Parking Lot
Good Working Kitchen
Large 3 bedroom accommodation house
Two small paddocks – currently sheep grazing
Location
Rongotea is a small, close-knit, rural township located 25 kms South-west from Palmerston North with a population of 635 residents that really enjoy the friendly rural atmosphere.
Rongotea School boasts over 200 pupils up to year eight and Te Kawau play centre provides learning and fun for our little ones. Many local businesses and retailers including a dairy, garage, hardware store, tavern and two fish & chip shops provide locals with more than just the basic necessities.
It is also home to five churches. In spring, residents and visitors to the town admire the beautiful cherry trees that are blossoming on every street in the town and dazzling new Christmas lights enhance the town during the festive season. On Christmas Eve each year Santa visits each street on the Fire Engine, visiting children, playing carols and giving out lollies. The new Te Kawau Memorial Recreation Centre is a real asset to the area and is the home of Te Kawau Rugby.
History
Two big landowners in Otago were responsible for the founding of the township of Rongotea and the surrounding district. Partners in the enterprise were the Hon Robert Campbell of Otekaike and John Douglas of Mt Royal. Campbell and Douglas bought the 21,400 acre "Oroua Downs Estate" in the Township of Carnarvon for the bargain price of 12 shillings and six pence per acre.
The business has run on an even keel basis over the past few years with regular business clientele keeping the current owners busy.
For more information or to arrange your viewing, please contact specialist Hospitality Business Broker, Robert Munro, AREINZ, on 022 422 6720 or email Robert@tourismproperties.com
Confidential Documents
Full Listing Information for this Tourism Business will be disclosed to registered, approved Potential Purchasers.
Become a Registered User:
To gain access and download full confidential individual files on businesses for sale on this website, you must first be a registered user, and have ticked the box that you agree to the strict terms and conditions of the confidentiality agreement, provided by TourismProperties.com.
This is a simple two-minute process, which you can complete by selecting 'Register' at the top right hand of your device now.
If you are already registered with us:
You can request full access to this listing's confidential files by:
Logging in with your existing user name (your email used to register) and your password, then by
Locating the listing you are interested in viewing Listing Files, then
Navigating to the 'Documents' tab, of the listing you are interested in, and
Selecting 'Request Access' to the confidential information here within.
We will quickly respond confirming your approval.
When you are emailed your 'access approval' notification, you need to be logged in to our website, in order to view and/or download the confidential files, which are located in your 'Document Library'.
If you are already logged in now:
Simply register your interest here, by navigating to the 'Documents' tab, and selecting 'Request Access' to the confidential information here within, and Adrian will come back to you by email with your access notification.
---
8892 | Rongotea Tavern For Sale | P&L Reports
8892 | Rongotea Tavern For Sale | Lease Details
8892 | Rongotea Tavern For Sale | Chattels List
8892 | Rongotea Tavern For Sale | Lease Information - renewal
Good place to unwind after trying to play golf ⛳ at Foxton! ★★★★★
Customer service was quick the pub itself is a casual laid back kinda place ★★★
A fun loving local watering hole with staff to suit. Very enjoyable entertainment on new years eve. A local band Mischievous Mix performed a wide range of musical genres. ★★★★★
Great hospitality. Nice selection of drinks and food. Interesting customers. ★★★★★
Excellent Sunday roast. Good value and great food. ★★★★
Source: Online review platforms.
Property Details
Property Type
Country Pub
Taverns

Sale Type
Leasehold Interest (Business)

Region
Manawatu/Wanganui
Physical Address
Rongotea Tavern, 51 Thames Street, Rongotea, New Zealand
Price
LEASEHOLD INTEREST (Biz), asking $320,000 + GST (if any)
Contact Agents
Adrian Chisholm
Principal
Head Office | Lower North Island, Canterbury, Marlborough, Tasman, Upper West Coast, Central Otago, Fiordland & Southland
International: +64 21 727 888
NZ Mobile: 021 727 888
Email: adrian@tourismproperties.com