Add to Watchlist
On Watchlist
Please register your interest on this listing, on the '
Documents Tab
' tab.
Property Ref: 5090
PRICE REDUCED FOR A QUICK SALE! Lot 6 Last Section, Kingston Flyer Lifestyle Estates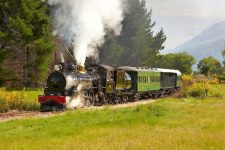 Property Type: Development Opportunities, Development Site, Vacant Land
Sale Type: Freehold Investment, Urgent Deadline Sales
Region: South Island, Central Otago, Queenstown
Physical Address: 400 Allandale Road, just off the Kingston-Garston Highway
Price: PRICE DROP | 2Ha LIFESTYLE BLOCK FOR SALE $595,000 INCLUDING GST
Broker: Adrian Chisholm
Mobile: +64 21 727 888
Email: adrian@tourismproperties.com

Want Direct Access to the Cycle Trail & Railway Line? Be Quick!
Here's the last opportunity to purchase a Queenstown Kingston Flyer lifestyle Estate
This Lot has DIRECT ACCESS to the train track, cycleway and the entranceway into the property has already been formed
Build a B'n'B, Wilderness Lodge, or Crib, on 5 Acre/2Ha lots (approx.)
Adjacent to the "Around the Mountain" cycle trail, train tracks, the new Wakatipu Aero Club, (with hanger lease options), & the Mataura river, with it's fabulous hunting & fishing options!
Last one available: Lot 6
Approx. 2ha (5acre) rural "Kingston Flyer Lifestyle" block, only 40 minutes from Queenstown International Airport.
This rural lifestyle development is situated in the awesome rural landscape in Northern Southland just metres from the Central Otago boundary of Queenstown Lakes District. Don't delay, call me now!
For more information or to arrange your viewing, please contact the specialist Accommodation Business Broker, Adrian Chisholm, AREINZ, on 021 727 888 or email Adrian@tourismproperties.com.
---
Are you after a new lifestyle?
These large rural lifestyle blocks feature the Kingston Flyer Steam rail corridor to the west of each property and will enjoy private access to the newly established Kingston Aerodrome, where hangar lease options are available.
The 'Around the Mountain' cycle trail, is also on the same rail corridor and just a short cycle ride to Kingston, Fairlight and Garston.
Kingston township, just to north of the property is situated the water's edge of Lake Wakatipu, which features a wharf and boat ramp.
Fairlight, just south, enjoys direct access to the Mataura river, famous for the fishing and scenery, plus a spectator swing bridge over the river, which is part of the 'Around the mountain' cycle trail.
​Each 2 ha (5 acre) property will be accessed via a 1,900m extension to Allendale Road and has a 1,000m2 level designated building platform, all with three phase power, and fibre optic to the boundary.
This one of the most exclusive lifestyle property opportunities to come to market in many years, and features the very best of the New Zealand Rural Lifestyle PLUS nearby aerodrome, hangers, planes, trains, rivers and mountains.
Call me urgently to discuss this very limited and exclusive Property Lifestyle or Property Investment offering.
For more information: please contact Adrian Chisholm, Specialist Tourism Broker on Mobile 021727888 or outside of New Zealand on +6421727888, or by email at Adrian@tourismproperties.com.
---
Kingston, Southern Lakes
Nestled between the Eyre Mountains and the Hector Range, Kingston is on the southern tip of Lake Wakatipu and on the border of Otago and Southland.
Located a 45 minute drive from central Queenstown, Kingston's lakeside setting, relaxed vibe, and outdoor lifestyle make it a great spot to visit. The road, which winds between Lake Wakatipu and The Remarkables mountain range, offers spectacular views and there are some good photo stops along the way – the best being at the top of Devil's Staircase.
Kingston town was once a major transport link between the Wakatipu district's gold fields and the shipping ports of Dunedin and Invercargill. These days Kingston is a great place to go to relax and enjoy the beautiful township and stunning lake-side landscapes. You'll find plenty of picnic spots under the trees, can try your luck at fishing on the edge of Lake Wakatipu or the nearby Mataura River or grab a bite to eat at the local cafe/bar. Kingston is also the starting point for a hike in the nearby remote Eyre Mountains Conservation Park, and the new Around the Mountain Cycle Way. Don't forget to listen out for the native birds and if you stay overnight, you'll be amazed at the starry skies.
Activities and attractions: There is also a wonderful county golf course with great natural obstacles that welcomes visitors, it's a great spot for boaties and watersports, or you can head out on your bike on the new well-graded and maintained trail that heads towards Mossburn and links around the mountain to Walter Peak station. Or just take a break on your journey while the kids play in the children's playground and you grab a coffee at the local café.
Kingston is great destination to discover on your journey through the Southern Lakes region.
Queenstown, Southern Lakes
Queenstown is the Southern Hemisphere's premier four season lake and alpine resort.
Queenstown's stunning scenery, huge range of activities and renowned warm welcome cement its reputation as New Zealand's favourite visitor destination. Surrounded by majestic mountains and set on the shores of crystal clear Lake Wakatipu, the natural beauty and the unique energy of the region create the perfect backdrop for a holiday full of adventure, exploration or relaxation.
Over 2 million visitors are drawn to Queenstown each year, including adventurers, filmmakers, wine enthusiasts, Hollywood and Bollywood stars and US Presidents to enjoy their own unforgettable travel experience. Visitors come to experience our unique scenery, search for adventure, seek out relaxation and rejuvenation, or to just breathe our pure mountain air.
The Queenstown region is world-famous for adventure and is the birthplace of many iconic activities including commercial bungy jumping and jetboating. Other activities guaranteed to get your blood pumping include white water rafting, ziplining, 4×4 off-roading, snowsports, paragliding and skydiving. The region is also home to plenty of hiking and biking trails, guided tours, family activities, boat cruises, scenic flights or spa and wellness centres.
Source: DQ, NZ.
Confidential Documents
Full Listing Information for this Tourism Business will be disclosed to registered, approved Potential Purchasers.
Become a Registered User:
To gain access and download full confidential individual files on businesses for sale on this website, you must first be a registered user, and have ticked the box that you agree to the strict terms and conditions of the confidentiality agreement, provided by TourismProperties.com.
This is a simple two-minute process, which you can complete by selecting 'Register' at the top right hand of your device now.
If you are already registered with us:
You can request full access to this listing's confidential files by:
Logging in with your existing user name (your email used to register) and your password, then by
Locating the listing you are interested in viewing Listing Files, then
Navigating to the 'Documents' tab, of the listing you are interested in, and
Selecting 'Request Access' to the confidential information here within.
We will quickly respond confirming your approval.
When you are emailed your 'access approval' notification, you need to be logged in to our website, in order to view and/or download the confidential files, which are located in your 'Document Library'.
If you are already logged in now:
Simply register your interest here, by navigating to the 'Documents' tab, and selecting 'Request Access' to the confidential information here within, and Adrian will come back to you by email with your access notification.
---
Listing 5090: Lot 6 Title (added 14 June 21)
Listing 5090: Kingston Flyer & Land
Listing 5090: Kingston Flyer & Land
Listing 5090: Rural Zone
Listing 5090: A4-BB-OPT
Listing 5090: Booklet
Listing 5090: Resource Consent
Listing 5090: RMC
Listing 5090: Subdivision Approval
Property Details
Property Type
Development Opportunities
Development Site
Vacant Land

Sale Type
Freehold Investment
Urgent Deadline Sales

Region
South Island Central Otago Queenstown
Physical Address
400 Allandale Road, just off the Kingston-Garston Highway
Price
PRICE DROP | 2Ha LIFESTYLE BLOCK FOR SALE $595,000 INCLUDING GST
Contact Agents
Adrian Chisholm
PRINCIPAL | Tourism, Hospitality & Leisure Business Broker
Head Office | Otago & Southland
International: +64 21 727 888
NZ Mobile: 021 727 888
Email: adrian@tourismproperties.com