Add to Watchlist
On Watchlist
Please register your interest on this listing, on the '
Documents Tab
' tab.
Property Ref: 7090
Central Otago Motel, Freehold Going Concern For Sale in Roxburgh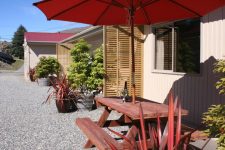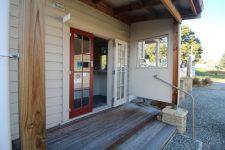 Property Type: Motels
Sale Type: Freehold Going Concern
Region: Central Otago
Physical Address: 1 Liddle Street, Roxburgh, New Zealand
Price: FHGC MOTEL FOR SALE, offers over $849,000 +GST (if any)
Broker: Adrian Chisholm
Mobile: +64 21 727 888
Email: adrian@tourismproperties.com

Superb FHGC, Roxburgh Motel is on the Market!
Situated halfway between Dunedin and Queenstown, Roxburgh Motel is a great Freehold Going Concern motel opportunity for those looking to enjoy the Central lifestyle with an easy to manage 5 motel units and offering a gorgeous 3 bedroom home.
Conveniently located in the heart of the Roxburgh township, only a two minute walk to cafes, restaurants, shops, galleries and the information centre. There is an 18 hole golf course at the end of the street, walking distance to the Clutha Gold Trail and the famous Jimmy's pies are across the street. Two of New Zealand's most popular Cycle Trails meet in Roxburgh, the Roxburgh Gorge Trail and the Clutha Gold Trail and Roxburgh Motels are official partners with the Clutha Gold Trail.
The five motel units are fully self-contained: The units have been refurbished to a high standard, with kitchenette facilities, and the recently installed heatpumps and airconditioning units in each one, and units 1 to 4 have all had new ceiling insulation installed very recently. All units have their own covered carports and their is plenty of extra parking. There is also a common laundry for guest use. There is an outdoor recreational and barbecue area, with seating and umbrellas for outdoor dining.
Motel Units:
Unit 1 – 1 Queen in separate room and 2 Singles in another room plus lounge
Unit 2 – Studio Super King bed
Unit 3 – Queen bed in one room and 2 Single beds in another room
Unit 4 – Queen bed in one room and 2 Single beds in another room
Unit 5 – Sleeps up to 10, it has 4 bedrooms and 2 new bathrooms plus living area
Owner/Manager Accommodation:
There is a lovely 3 bedroom home, with a spacious private deck. Currently the office is located in the 3rd bedroom within the home. Heating and airconditioning, is by way of heatpumps/airconditioner and a log burner.
Not often do we offer such a great Tourism Accommodation Freehold Going Concern Land, buildings, chattels, goodwill and business where all the hard work has been done, great owners accommodation, great room configuration and layout to achieve great occupancy and yields. Call Adrian today for more on 021 727 888.
For more information please contact specialist Business Broker, Adrian Chisholm, AREINZ, on 021 727 888 or by email adrian@tourismproperties.com
---
If you would like full access to this business for sale please register on our website, then on the Documents tab, please request access, and the broker will be in touch with you shortly, thank you.
The Delights of Roxburgh in Central Otago
Confidential Documents
Full Listing Information for this Tourism Business will be disclosed to registered, approved Potential Purchasers.
Become a Registered User:
To gain access and download full confidential individual files on businesses for sale on this website, you must first be a registered user, and have ticked the box that you agree to the strict terms and conditions of the confidentiality agreement, provided by TourismProperties.com.
This is a simple two-minute process, which you can complete by selecting 'Register' at the top right hand of your device now.
If you are already registered with us:
You can request full access to this listing's confidential files by:
Logging in with your existing user name (your email used to register) and your password, then by
Locating the listing you are interested in viewing Listing Files, then
Navigating to the 'Documents' tab, of the listing you are interested in, and
Selecting 'Request Access' to the confidential information here within.
We will quickly respond confirming your approval.
When you are emailed your 'access approval' notification, you need to be logged in to our website, in order to view and/or download the confidential files, which are located in your 'Document Library'.
If you are already logged in now:
Simply register your interest here, by navigating to the 'Documents' tab, and selecting 'Request Access' to the confidential information here within, and Adrian will come back to you by email with your access notification.
---
7090 | Financials 2006 to Aug21
7090 | Occupancy Rates
7090 | 1 Liddle St - Property Title Report
7090 | Property Title Report
7090 | 1a Liddle St - Property Title Report
7090 | 1 Liddle St - Property Valuation Report
7090 | 1a Liddle St - Title & Property Report
7090 | 1a Liddle St - Building Consents Report
7090 | Rates Valuation
7090 | QV Details
7090 | List of Improvements Made
7090 | House LIM Report
7090 | Motel LIM Report Part 1
7090 | Motel LIM Report Part 2
7090 | Motel Drawings 1
7090 | Motel Drawings 2
7090 | Recent Sales Within a KM in last 12mnths
Property Details
Property Type
Motels

Sale Type
Freehold Going Concern

Region
Central Otago
Physical Address
1 Liddle Street, Roxburgh, New Zealand
Price
FHGC MOTEL FOR SALE, offers over $849,000 +GST (if any)
Contact Agents
Adrian Chisholm
PRINCIPAL | Tourism, Hospitality & Leisure Business Broker
Head Office | Otago & Southland
International: +64 21 727 888
NZ Mobile: 021 727 888
Email: adrian@tourismproperties.com

COMMUNICATIONS MANAGER
English